Union Minister Rajeev Chandrasekhar Criticizes Karnataka Congress Govt Over Budgetary Shortfalls
A senior minister revealed that the Chief Minister of Karnataka has expressed an alarming concern - the lack of funds to provide basic office furniture in newly established districts. Union Minister Rajeev Chandrasekhar has once again launched a scathing attack on the Karnataka Congress government, warning about the potentially devastating consequences of their guarantee schemes on the state's economy.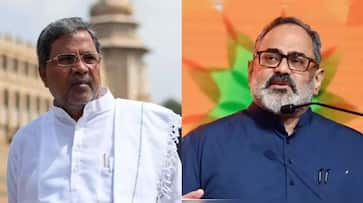 Taking to platform X, Chandrasekhar stated, "I had previously cautioned that the Karnataka state government's reliance on guarantee schemes would lead to financial instability in the future."
Deputy Chief Minister DK Shivakumar had earlier disclosed that there were insufficient funds for developmental projects in the current fiscal year. The latest revelation regarding the absence of funds for procuring chairs and tables in these new districts has raised concerns about fiscal mismanagement.
Chandrasekhar went on to question whether Rahul Gandhi's leadership, including the Chief Minister and Deputy Chief Minister, could provide a transparent account of where the allocated funds had been utilized. He asserted that these developments epitomize the real consequences of Rahul's guarantee schemes, predicting dire implications for the state's economy in the near future.
In a separate statement, Union Minister Rajiv Chandrasekhar emphasized the government's unwavering commitment to combating criminal and harmful content on the Indian internet. He revealed that notices have been issued to major platforms such as X, YouTube, and Telegram to swiftly remove content related to child sexual abuse. 
Tamil actor Siddharth takes issue with Shiva Rajkumar's apology after press conference disruption
Chandrasekhar stated, "We maintain a zero-tolerance policy against the dissemination of criminal and harmful content on Indian cyberspace." He cited the IT Act, which mandates that websites prevent such content on their platforms, and warned that failure to do so could result in the withdrawal of permissions under Rule 79 of the IT Act. As a result of this notice, these websites are compelled to promptly eliminate any child abuse-related content and prohibit its future presence on their platforms.
The government's commitment to creating a safe and secure online environment aligns with established IT norms and regulations.
Last Updated Oct 7, 2023, 10:26 AM IST