Karnataka's Water Scarcity Worsens: Leaders Demand Action on Drought Crisis
In a joint outcry, former Chief Ministers BS Yediyurappa and Basavaraj Bommai have united in their demand for an immediate drought declaration by the Karnataka state government.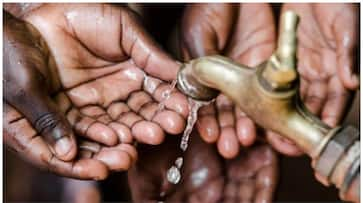 Highlighting the dire situation, Yediyurappa took to platform X (former twitter), revealing that over 120 taluks within the state are grappling with drought conditions. With dams running dry and agricultural communities struggling, he urged prompt action and financial aid for affected farmers.

 Basavaraj Bommai echoed the urgency during a press conference in Hubli, accusing the state government of negligence in addressing the looming drought crisis. Despite erratic rainfall patterns and significant crop losses, official declaration of drought-affected areas has yet to materialize. Bommai stressed the need for comprehensive drought relief efforts, encompassing crop assessment, compensation distribution, and resolution of drinking water shortages.
He also underscored the tardiness in announcing affected regions and called for immediate declaration. He emphasized the significance of a thorough crop survey and subsequent compensation. With financial resources already allocated by the central government under natural calamity relief and insisted that the state government should promptly access and disburse these funds.
Agriculture Minister Chaluvarayaswamy divulged that more than 130 taluks were facing drought conditions, projecting a decision on official drought declaration by the following week. Addressing the media after a meeting with Agriculture Department officials, he disclosed that 79% of sowing had been completed, yet crops were withering due to inadequate rainfall. Awaiting the outcome of a severe drought area crop assessment report, Chaluvarayaswamy confirmed that a cabinet sub-committee would reconvene for the final decision, guided by central government protocols.
The drought's impact is evident in the meteorological figures, revealing a 25% rainfall deficit from June 1 to August 24. Against a typical rainfall of 651 mm, only 487 mm has materialized, exacerbating the crisis. Furthermore, there's a stark disparity between the demand for sowing seeds and available stock, while the need for fertilizers outweighs current supplies. Amidst these challenges, the Agriculture and Horticulture Department recorded 16.23 lakh farmers registered for crop insurance, aiming to provide a safety net for those grappling with the adverse effects of the drought.
The situation has reached a breaking point as Karnataka grapples with a drought-induced agricultural crisis. With the words of leaders and experts falling on receptive ears, the immediate declaration of drought-affected areas and comprehensive relief measures have become imperative to stave off further catastrophe.
Last Updated Aug 26, 2023, 2:21 PM IST