Karnataka High Court rebukes govt over lack of toilets and drinking water in state schools
The Karnataka High Court reprimands the government for the absence of toilets and drinking water in state schools, impacting students' education. The government has eight weeks to address the issue, including a survey and BBMP's report on schools under its jurisdiction.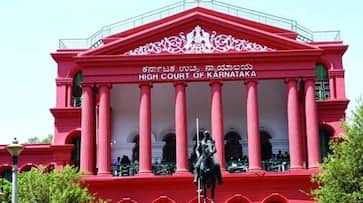 The Karnataka High Court has delivered a stern reprimand to the government for its failure to provide essential amenities such as toilets and drinking water facilities in hundreds of government schools across the state. Expressing deep displeasure, the court criticized the situation where even economically disadvantaged families are forced to sacrifice their children's education by sending them to private schools.
Chief Justice P.B. Varale and Justice Krishna S. Dixit presided over the Public Interest Petition filed by the High Court, which aimed to address the issue of out-of-school children in the state. During the proceedings, the division bench expressed its disappointment with the government's shortcomings.

Karnataka HC slaps Rs 5 lakh fine to state govt over negligence of public toilet maintenance
The High Court stated that the government's failure to ensure basic facilities like toilets and drinking water in government schools appeared to favour private school owners. It pointed out the unfortunate reality that those who have access to such facilities benefit, while those who do not have to suffer the consequences.
Senior advocate KN Phanindra, serving as amicus curiae in the case, presented a report revealing that 464 government schools in the state lack proper toilet facilities, and 87 schools do not have access to drinking water. This dire situation has led to the closure of government schools, compelling financially struggling parents to enrol their children in private institutions.

Karnataka HC slams BBMP over unauthorized election hoardings in Bengaluru

The government has been given eight weeks to review the amicus curiae's report and engage in a personal discussion with officials from the Education Department. The Principal Secretary of the Primary Education Department will also be involved in addressing this critical issue.
The High Court has directed the government to take immediate action, conducting a comprehensive survey of government schools without toilets and drinking water within the next two months. Additionally, the Bruhat Bengaluru Mahanagara Palike (BBMP) has been instructed to submit a report concerning the schools under its jurisdiction. The court emphasized that granting time for the survey does not absolve the government of its duty to provide essential infrastructure in these schools.
Last Updated Oct 10, 2023, 9:55 AM IST