Karnataka HC slams BBMP over unauthorized election hoardings in Bengaluru
The Karnataka High Court expresses dissatisfaction with unauthorized election hoardings in Bengaluru, causing inconvenience and traffic disruption. The court instructs the BBMP to take urgent action and provide a report within three weeks. Cases related to unauthorized billboards have significantly increased in 2023.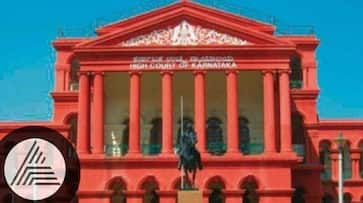 The Karnataka High Court has expressed its dissatisfaction with the increasing number of unauthorized election hoardings and billboards in Bengaluru, causing inconvenience to the city's residents and traffic disruption.
A division bench led by Chief Justice PB Varale heard a public interest petition filed by social activist Maige Gowda and others. They sought a court order instructing the Bruhat Bengaluru Mahanagara Palike (BBMP) to take action against the proliferation of unauthorized hoardings in the city.

Centre should set minimum age to access social media, Karnataka High Court opines
The petition highlighted the growing presence of unauthorized billboards in Bengaluru and the resulting public perception that BBMP officials were not adequately performing their duties, and displaying negligence. The court agreed with the petitioner's argument and criticized BBMP officials for the adverse impact of excessive advertising on the city's residents.
Unauthorized election hoardings, flexes, and banners have also been blamed for severe traffic disruptions. The court called on the BBMP to address this issue urgently. The court adjourned the hearing until a later date and instructed the BBMP to provide a comprehensive report on the matter within three weeks.

Karnataka HC rejects petition to halt Ganesh Chaturthi at Idgah Maidan in Hubballi
During the hearing, the BBMP's lawyer submitted a memorandum, revealing that 701 cases related to unauthorized billboards had been registered since August 30, 2023. This marked a significant increase compared to previous years, with 76 cases in 2022, 19 in 2021, and 120 in 2020. Of the total cases, 164 have resulted in convictions, 17 have been resolved, and 132 remain pending. Additionally, 327 cases were registered in August 2023 alone.
Bengaluru City Police Commissioner issued a directive on August 23, 2023, instructing police officials to strictly enforce the Karnataka Free Area Prevention Act. They were ordered to take legal action against those responsible for unauthorized advertisements and to collaborate with BBMP officials to address the problem. Inspectors were held accountable, and their actions were subject to departmental disciplinary action if unauthorized billboards were discovered in their jurisdictions in the future.
Last Updated Sep 20, 2023, 3:01 PM IST