India's first underground power transformer station inaugurated in Bengaluru; check details
India's first underground power transformer station inaugurated in Bengaluru, enhancing safety, preventing electrical accidents, and improving pedestrian access. Plans for additional underground stations in the city were also announced.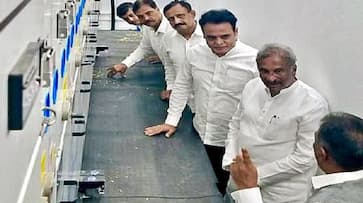 The first underground power transformer station in India was inaugurated in Bengaluru. This facility, developed in collaboration with Bengaluru Electricity Supply Company Limited (BESCOM) and Bruhat Bengaluru Mahanagara Palike (BBMP), is located on 15th Avenue in Malleswaram and consists of a 500 kVA capacity transformer was inaugurated by Energy Minister K J George.
He stated that this pioneering initiative marks the country's first installation of an underground transformer. The project's primary goal is to enhance safety by preventing electrical accidents, ensuring a consistent power supply, and safeguarding pedestrians. Plans were also announced to establish additional underground power transformer stations in Bengaluru, with a focus on relocating transformers causing traffic issues for pedestrians.

Demands arise seeking naming of Chandrayaan 3 landing site after Bengaluru
Bengaluru's development is witnessing innovative experiments, with the CM and DyCM allocating 2,500 crores for the city's progress. The establishment of an underground power transformer station in Bengaluru is a unique achievement for India, as these facilities are typically associated with Western countries. BESCOM officials disclosed plans to shift approximately 300 transformers currently situated on the city's pavements to underground stations in the near future.
The inauguration ceremony was attended by local MLA Dr. C. N. Ashwattha Narayan, Deputy Chief Secretary of the Energy Department Gaurav Gupta, Bescom MD Mahantesh Bilaragi, Finance Director Darshan J., Technical Director Ramesh H. J., BBMP Chief Commissioner Tushar Girinath, and other officials.
The curious case of declining stray dog population in Bengaluru

An underground substation is a facility built below ground level to house electrical transformers, with a primary focus on public safety and convenience. In the newly established station in Malleswaram, the transformer is positioned 8 feet below the road surface. BESCOM handles the electrical components, while BBMP oversees civil works. 
The underground station features a 500 KVA capacity oil-free transformer, an 8-way solid-state ring main unit, a 5-way LT distribution box, UPS, an automatic water pump, and an air control system. Provisions for access during repairs are also included. The chamber is designed as a water sump, enclosed by concrete walls on all sides, ensuring that pedestrians can safely traverse above it. Even in the event of a transformer explosion, there will be no impact on the surface, thus helping to prevent power outages and related accidents.
Last Updated Sep 6, 2023, 10:43 AM IST