Despite ban, Bengaluru fails to curb POP Ganesha idols in city; check details
For seven years, Bengaluru struggles to stop the sale of harmful POP Ganesha idols despite a state ban. Authorities face challenges due to religious sensitivity, and enforcement efforts have been insufficient, leading to ongoing sales of these idols.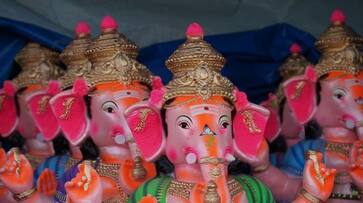 For seven years, Bengaluru has been struggling to stop the sale and making of harmful Plaster of Paris (POP) Ganesha idols, even though there was a ban on them in the entire state during Ganesh Chaturthi. The agencies in charge, Bengaluru Bruhat Mahanagara Palike (BBMP) and the Karnataka State Pollution Control Board (KSPCB) are having a hard time stopping this.
The National Green Tribunal banned these idols back in 2016, but people are still buying and making them. BBMP officials can only ask organizers for a letter promising not to use POP idols, but they can't take strong action because of the religious aspect. The BBMP officials state that they have to handle this issue in a smooth manner, for they cannot impose a strict ban on the installation of such POP idols on the devotees.

Ganesh Chaturthi: Here are some rules to welcome Lord Ganesha at home
Even though there have been awareness campaigns and giving away clay idols, the sale of POP Ganesha idols is still not getting banned in the city. Although the awareness work has made them less popular, they are still being sold illegally. 
The people in charge don't seem very interested in enforcing the ban on using harmful Plaster of Paris (POP) and chemically coloured Ganesha idols in the city. Even though many have been asking for a ban for ten years, the government officially banned POP use in 2016. 

Karnataka's festive spirit: KSRTC to add 1,200 buses for Ganesh Chaturthi; check details
However, POP idol sales and production are still happening in the city. Officials from BBMP and the Pollution Control Board have not been able to control it. There are accusations that only a couple of POP factories were raided and warned during the Ganesha festival, and only a few POP idols were seized.
Balasunder, Chief Health Officer at BBMP's Public Health Department, says despite spreading awareness, there's no effective way to stop POP idols from being sold. Increasing the sales of Clay Ganesha idols can help curb this issue of selling POP idols in the city.
Last Updated Sep 15, 2023, 11:57 AM IST