Karnataka's festive spirit: KSRTC to add 1,200 buses for Ganesh Chaturthi; check details
KSRTC is deploying 1,200 special buses for the Gauri Ganesha festival and weekends from Sept 15-18, connecting Bangalore to various destinations. Advance reservations and discounts are available for passengers. More information on routes and timings is on the KSRTC website.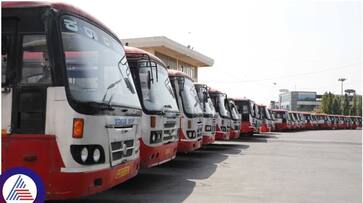 The Karnataka State Road Transport Corporation (KSRTC) is taking measures to accommodate passengers during the upcoming Gauri Ganesha festival and weekend days. KSRTC has arranged for an additional 1,200 special buses to serve the public during this period.
These special buses will operate from September 15 to September 17, catering to passengers travelling from Bangalore to various destinations. Additionally, special services will be provided on September 18 for those returning to Bangalore from different places within the state and neighbouring states.

KSRTC introduces UPI scan for seamless ticketing
From the Kempegowda Bus Stand, passengers can avail services to destinations such as Dharmasthala, Kukkesubramanya, Shimoga, Hassan, Mangaluru, Kundapur, Sringeri, Horanadu, Davangere, Hubli, Dharwad, Belgaum, Vijayapur, Gokarna, Shirsi, Karwar, Raichur, Kalaburgi, Bellary, Koppala, Yadgir, Bidar, Tirupati, and Vijayawada, among others.
Services departing from the Mysuru Road Bus Station will cater to routes including Mysuru, Hunsur, Piriyapatnam, Virajpet, and Kushalanagar leading to Madikeri.
For passengers heading to Tamil Nadu and Kerala, prestigious transports are available to cities like Madurai, Kumbakonam, Chennai, Coimbatore, Trichy, Palakkad, Thrissur, Ernakulam, and Calicut, departing from the Bangalore Metropolitan Transport Corporation Bus Stand at Shantinagar.
To ensure convenience for passengers, advance seat reservation facilities are provided for these additional buses. Passengers are advised to check the bus stop or pickup point mentioned on their pre-booked tickets before heading to the stops.
E-ticket booking can be done through the official website www.ksrtc.karnataka.gov.in, and passengers can also book seats in advance at 691 computerized booking counters within Karnataka and interstate.
Discounts are available for group bookings, where a 5% discount is given for four or more passengers booking together. Moreover, a 10% discount is offered on return fares when booking round-trip or return tickets together.

Karnataka: KSRTC to roll out special bus services to Kerala for Onam; CHECK details
The KSRTC advance seat reservation counters in major cities of neighbouring states such as Tamil Nadu, Andhra Pradesh, Telangana, Kerala, Goa, Maharashtra, and Puducherry allow passengers to book seats in advance for KSRTC buses.
Details of the additional bus services, including departure points and timings, are available on the Internet Advance Seat Reservation System and the KSRTC website. Passengers will also find the departure point information on their advance tickets.
Last Updated Sep 12, 2023, 12:48 PM IST