Bengaluru Traffic Police detain rider with 99 traffic violations, Rs 56,000 pending fine
The Mico Layout traffic police in Bengaluru have arrested a biker with 99 traffic violations, prompted by a vigilant social media user's video. An FIR was filed, emphasizing the role of social media in resolving traffic issues and the swift action of the Bengaluru Traffic Police.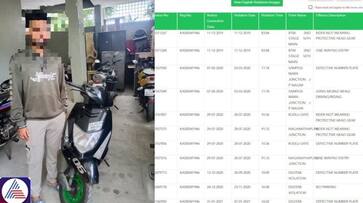 The traffic police of Bengaluru have taken a biker into custody who had accumulated a staggering 99 traffic violations, resulting in a pending traffic fine of Rs 56,000. An FIR has been filed against the offender as authorities crack down on repeated traffic offenders.
The arrest came after a vigilant social media user, Prasanna Kumar, posted a video capturing the biker riding against traffic regulations near the Vega City Junction. He shared the video on the platform, tagging Bengaluru traffic police and Alok Kumar, the Additional Director General of Police for Traffic and Road Safety.

Bengaluru cops nab biker who smashes car mirror and uploaded reels on Instagram
The errant biker's vehicle, bearing registration number KA05EM1946, had racked up a total of 99 violations, with the recent incident marking the 100th infraction. The concerned citizen, @PrassannakumarR, took to Twitter, drawing attention to the vehicle's extensive list of violations and urging prompt action by the authorities.

Bengaluru: Govt plans to impose 'Congestion Tax' on motorists to ease traffic congestion
In response to the social media post, Bengaluru Traffic Police expressed their appreciation for the user's vigilance in reporting the traffic violation. They encouraged the public to report similar incidents via social media and provided information on the Public Eye portal, a platform that enables citizens to report traffic violations.
This incident underscores the role of Social media in resolving traffic issues, and violations as well as showcases the quick action of the Bengaluru Traffic Police in curbing the traffic violations in the city.
Last Updated Sep 27, 2023, 5:13 PM IST