Bengaluru Police file over 68 lakh traffic violation cases, helmetless riders tops the list
Bengaluru, known for its high vehicle population, is utilizing AI-driven cameras and digital technology to enforce traffic rules, resulting in over 68 lakh traffic violation cases registered in the first ten months of 2023. Despite reduced traffic police presence, issues like helmetless riding and wrong parking persist, highlighting the city's transition towards tech-based traffic management without reduced fines.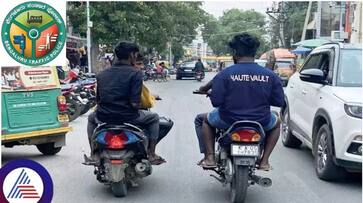 Bengaluru, known as the Silicon City, has a staggering 1.2 crore vehicles, including a high number of bikes and cars. However, residents have noticed fewer traffic police officers on the roads recently. Instead, the Bengaluru Traffic Police have been using digital technology and AI-driven cameras to register over 68 lakh traffic violation cases between January and October 2023.
Traffic police presence on the streets has reduced, but this doesn't mean traffic rules are being ignored. They have embraced technology to enforce the law. In just ten months in 2023, they've registered a significant number of cases using digital surveillance.

Bengaluru ranks fourth in India for road accidents, over 770 deaths in 2022
When someone breaks a traffic rule, an automated notice with a photo is sent to the vehicle owner. The police rely on traffic CCTV cameras to start the legal process and collect fines. However, this tech-based approach hasn't necessarily improved compliance.
In the first ten months of 2023, there were still a large number of people riding without helmets, with over 31 lakh cases against helmetless bike riders. Many cases were also recorded for pillion riders not wearing helmets and motorcyclists running red lights.

Karnataka ranks 5th in India for road accidents: Over 50000 people died because they did not wear helmets
There were almost 9 lakh cases of vehicles wrongly parked in no-parking zones, making the total number of cases since January 2023 around 68 lakh. This includes cases of vehicles driving in prohibited zones and people not wearing seat belts.
While traffic rules are strictly enforced, the government hasn't offered reduced fines for those who violated rules this year. The increasing number of cases reflects the city's shift to technology-based traffic management.
Last Updated Nov 6, 2023, 3:12 PM IST