Karnataka ranks 5th in India for road accidents: Over 50000 people died because they did not wear helmets
Karnataka has been ranked 5th in India in terms of road accidents according to the recent report released by the Ministry of Road Transport department. Over 50,000 people have died in road accidents without wearing helmets. Despite the road accidents soaring in the state, Karnataka has dropped down one position from 4th to 5th, in the past year for road accidents. However, the alarming rate of deaths has made Karnataka rank 4th position among casualties.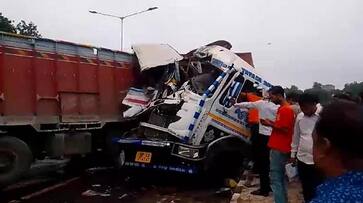 In 2022, Karnataka has been ranked in the 5th position among Indian states for road accidents, with a total of 39,762 recorded incidents, resulting in a staggering 11,702 fatalities. These sobering statistics place the state at the 4th spot for the number of deaths in road accidents across the nation. The Ministry of Road Transport and National Highways released this report, stating that even though the number of accidents has increased, Karnataka has dropped from 4th place to 5th place in terms of accidents. 

Out of the total accidents, 13,384 were recorded on national highways, 3,046 on state highways, and the remainder on other roads. In terms of casualties, 4,164 fatalities were linked to national highways, 3,278 on state highways, while the rest occurred on other roads, according to the report.

Bengaluru: Mother and child killed in multiple vehicle pileup on Horamavu ORR
Disturbingly, 4,000 accidents transpired due to excessive speeding, claiming the lives of 3,872 individuals. Tragically, 18 people lost their lives due to driving under the influence of alcohol, while 144 individuals perished as a result of driving in the wrong direction. Shockingly, five lives were lost due to the perilous habit of talking on mobile phones while driving.
Nationally, the year 2022 saw a total of 4.61 lakh road accidents, resulting in 1.68 lakh fatalities and 4.43 lakh injuries. The Ministry of Road Transport and Highways released a report titled 'Road Accidents in India in 2022' last year, revealing these alarming figures. This report disclosed that the country experienced 4,61,312 road accidents, with 1,68,491 fatalities and 4,43,366 injuries.

Among these accidents, 1,51,997 (32.9 per cent) occurred on national highways, 1,06,682 (23.1 per cent) on state highways, and 2,02,633 (43.9 per cent) on other roads. Notably, compared to the previous year, there was an 11.9 per cent surge in road accidents and a 9.4 per cent increase in the number of fatalities.

Bengaluru: Deadly accident claims biker's life, seriously injures pedestrian at Nelamangala (WATCH)
One of the most startling revelations in the report is the fact that 16,715 individuals lost their lives in road accidents due to not wearing seat belts, with 8,384 of them being drivers and the remaining 8,331 passengers. Furthermore, in the same year, 50,029 people met with untimely deaths as a direct result of not wearing helmets. Shockingly, an overwhelming 71.3 per cent of these fatalities involved two-wheeler riders.
Excessive speeding, accounting for a staggering 72.3 per cent, emerged as the leading cause of road accidents followed closely by driving in the wrong direction. Additional causes of accidents included alcohol consumption and signal to jump at 7.4 per cent and environmental and vehicle-related factors at 18.2 per cent. These alarming statistics underscore the critical importance of road safety measures and responsible driving to prevent further loss of lives on Indian roads.
Last Updated Nov 1, 2023, 9:24 AM IST