Bengaluru bandh: Dead rat found inside meal supplied to Police personnel
Police personnel on duty during the Bengaluru bandh, protesting the Cauvery water release to Tamil Nadu, were served a meal containing a dead rat. Outrage and concerns for their health ensued, prompting calls for accountability from the hotel responsible for the food supply.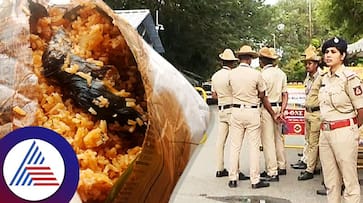 A troubling incident has come to light amid the ongoing Bengaluru bandh protest against the government's diversion of Cauvery River water to Tamil Nadu. A dead rat was found in the meal supplied to the Police personnel, assigned to handle the ongoing bandh situation in Bengaluru. 
The bandh, organized by pro-Kannada and farmer groups, has resulted in the shutdown of Bengaluru, even without official government approval. Security personnel from various districts, including Bengaluru, were deployed to handle the situation. However, the officers responsible for maintaining security were served a shocking and unacceptable meal.

Karnataka MLA Yatnal's appeal calls to boycott films of actors ignoring Cauvery issue
When the police officers opened the food supply, they were shocked to see the dead rat inside. They expressed worries about the meals being consumed by their fellow officers and stressed the urgent need for action to address this issue. 
The incident has led to outrage among the police personnel, who are demanding accountability for the meal provided. They question who will be responsible for their well-being and the health of their families if they are forced to consume such substandard and hazardous food.

Bengaluru bandh over Cauvery water dispute hits normal life today

Anucheth, the Joint Commissioner of Police of Traffic Division, expressed anger and concern over the incident where staff members were served food containing the dead rat. A criminal case has been filed against the hotel, Ashok Tiffin Center, which provided a total of 180 meals to the police. He criticised the officials for failing to provide quality food despite the government allocating ₹200 for two meals. Fortunately, there have been no reports of the police falling ill for consuming contaminated food. 
The hotels that are supplying food are accused of supplying poor quality food to the police assigned for security. Numerous police personnel have been assigned to curb mishappenings in the city. The Bengaluru bandh has been called against the Cauvery water release to Tamil Nadu. The government has been releasing 5,000 cusecs of water to the neighbouring state, obeying the Supreme Court's order to release the water. However, the drought situation in the state has worsened the availability of water in the dam, which is concerning for the farmers in the state.
Last Updated Sep 26, 2023, 12:02 PM IST