Bengaluru bandh over Cauvery water dispute hits normal life today
Bengaluru witnesses a bandh protesting the release of Cauvery River water to Tamil Nadu. Transportation, schools, and some businesses are affected, while the metro remains operational. Police are deployed to maintain order.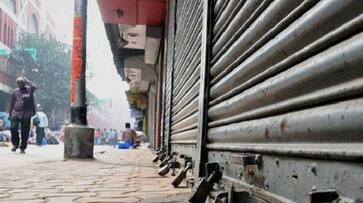 Bengaluru is gearing up for a bandh today in protest of the release of Cauvery River water to Tamil Nadu. Various organizations in Karnataka have condemned this move, and the city is likely to witness disruptions to daily life.
The bandh, which will run from 6 a.m. to 6 p.m., is expected to have a significant impact on transportation. Both the Bangalore Metropolitan Transport Corporation (BMTC) and Karnataka State Road Transport Corporation (KSRTC) buses, will operate normally. However, in a statement, they have announced that if the employees support the bandh, the buses will remain off the road. While schools and colleges in the city have declared a holiday, several industry and trade bodies, along with some hotels, have announced their decision to remain closed.

Cauvery dispute strike to hit Bengaluru on September 26: A look at what's open, what's closed
The unions representing BMTC and KSRTC workers have called on their employees not to operate buses. However, Transport Minister Ramalinga Reddy expressed uncertainty, stating, "Operation of buses by BMTC and KSRTC will depend on employees support. If they want to participate in the bandh, there will be disturbance in bus services." Nonetheless, an official statement from BMTC mentioned that buses would operate according to the regular schedule.
Bengaluru Metro Rail Corporation Limited (BMRCL) Managing Director Anjum Parwez assured that metro services would continue running as scheduled. He mentioned that metro officials would coordinate with the police and make further decisions based on the prevailing situation.

Bengaluru bandh on Sept 26 against Cauvery water release to Tamil Nadu

Karnataka Rakshana Vedike (KRV), a pro-Kannada organisation has announced that it will stay away from the bandh. In a statement issued by the leader T A Narayanagowda, "No member of the Karnataka Rakshana Vedike will hit the streets and shut down shops." 
Bengaluru airport has released an advisory requesting flyers to "plan their journeys accordingly" in view of the Bengaluru bandh. In addition, Indigo Airlines has also requested passengers to take sufficient time while travelling to the airport.
"Travel time to Bengaluru airport may take longer than normal due to Bandh declared in Bengaluru. We recommend arriving at least 2.5 hours before domestic and 3.5 hours before international departures," Indigo said in a post on X (formerly Twitter).

Many malls in Bengaluru, like the well-known Mantri Mall in Malleswaram, are showing their support for the ongoing bandh. They've closed their doors temporarily, and the mall staff put up a sign, declaring they have closed for the day. To ensure safety during the bandh, the police have increased security around the mall, to prevent any kind of mishappenings. 
The band's influence on transportation is already evident, with a bus conductor at the Majestic BMTC Bus Stop in Bengaluru stating, "No commuters are seen at the Kempegowda bus stop. Which is unusual since it is one of the busiest places in Bengaluru". To maintain law and order during the bandh, the police have deployed security forces throughout Bengaluru to prevent any untoward incidents in the city.
Last Updated Sep 26, 2023, 9:28 AM IST