YouTuber's fireworks display on train track sparks anger; RPF probing viral video (WATCH)
The Railway Protection Force is investigating a viral video on social media showing a YouTuber lighting firework on a train track, prompting concerns about dangerous activities near railway tracks. This incident reflects a trend where individuals take risks for social media content.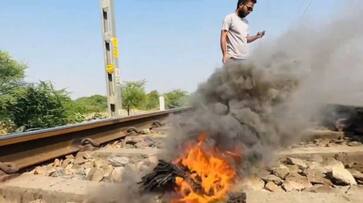 The Railway Protection Force is investigating a video going viral on social media that reportedly shows a YouTuber who was seen lighting fireworks on a train track. The video apparently shot near Dantra Station on Phulera-Ajmer Section, showed the individual lighting up fireworks in pellet form in the middle of the track, following which a thick smoke emanates. Sleuths of the Railway Protection Force's North Western Railway division are on the lookout for the YouTuber following calls to take necessary action against such miscreants.
In this age of social media, the popularity of short videos has skyrocketed. Every day, countless social media users share videos on platforms such as Instagram, YouTube, and Facebook. To garner more views and likes on their content, users often create videos based on various concepts. Some even risk their lives in pursuit of increased views and approval. 
One may come across videos where users dangerously venture onto railway tracks to take selfies or record videos. Shockingly, some even engage in these activities while trains speed by. It's crucial to understand that taking selfies or creating videos on railway tracks not only poses a severe risk to one's life but is also a criminal offence that could lead to imprisonment. 
Under the Railway Act of 1989, specifically Sections 145 and 147, capturing selfies or recording videos alongside railway tracks or platforms is strictly prohibited and subject to legal consequences. Violating this law may result in a fine of Rs 1000 or a potential jail term of up to six months. 
Indian Railways has time and again strongly advised social media users against risking their lives for a selfie on railway tracks, as it could very well be their last one. Even if they manage to evade an oncoming train, they may find themselves facing a six-month jail sentence.
Last Updated Nov 8, 2023, 10:51 AM IST