WATCH: Heroic railway personnel in Pune averts disaster by clearing massive boulders from tracks
Dedicated railway personnel in Pune averted a potential catastrophe by swiftly removing huge boulders obstructing a critical train track, showcasing their heroism and commitment to passenger safety.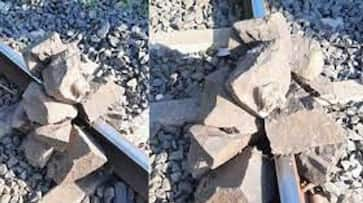 In a remarkable display of vigilance and heroism, a group of dedicated railway staff in Pune played a pivotal role in preventing what could have been a catastrophic incident. Their quick thinking and alertness during routine maintenance work ensured the safety of passengers and the smooth operation of the Chinchwad-Akurdi train track.
The vigilance began with Train Manager Sandeep Bhalerao, who was overseeing the down Lonavala-Pune local train. During his routine inspection, he spotted a cluster of massive boulders obstructing the railway track. Without hesitation, Bhalerao reported this potentially perilous situation to Station Master Mathew George at Chinchwad.
Station Master George wasted no time and immediately relayed the critical information to Loco Pilot MV Pavalkar and Guard DK Verma of the 16352 UP Nagarcoil-CSMT Express. He advised them to exercise extreme caution as they approached the affected area.
Simultaneously, at Akurdi Station, Senior Section Engineer (SSE) Shailendra Tripathi and a team of five diligent trackmen were on-site for weld testing near Km-172/7-8 on the UP line, which is in the Pune to Mumbai direction. To their shock and concern, they discovered a substantial stack of boulders obstructing the railway track.
Recognizing the gravity of the situation, Tripathi and his team promptly alerted the Civil Engineering Control in the Divisional Railway Manager's office in Pune. They urgently requested nearby trains to reduce their speed to avoid any potential disasters. Meanwhile, they worked tirelessly to clear the track and ensure its safety.
This group of railway heroes consists of Senior Section Engineer Shailendra Tripathi and five dedicated track maintainers: Irshad Shaikh, Anirudh Shinde, Tofik Shaikh, Ganesh Nimble, and Sharad Deshmukh. Their unwavering dedication to passenger safety and their courageous efforts undoubtedly averted a major train disaster in Pune. They deserve our heartfelt salute and appreciation for their exceptional commitment to ensuring the safety of railway operations and passengers.
Thanks to the swift and coordinated actions of these diligent railway staff members, the first train on the UP line, the 11030 Kolhapur-CSMT Express, was able to pass safely through the cleared track at 4:25 pm. Their collective efforts serve as a shining example of the importance of vigilance and teamwork in the railway industry, ensuring the well-being of all passengers.
Last Updated Oct 6, 2023, 9:10 PM IST