WATCH: Chaos during Russian dancers' performance in Jhansi goes viral; police resort to lathicharge
Police resorted to lathicharge to control a crowd attending a dance performance by Russian girls at a fair in Jhansi. The video of the incident went viral on social media and showed people trying to escape the batons of the police.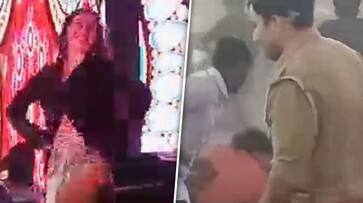 A dance performance by Russian girls at the Jalvihar Mahotsav in Mauranipur, Jhansi, spiralled into chaos on Thursday night, prompting police to resort to lathicharge. People were seen trying to evade the police officers' batons in the incident footage that quickly became popular on social media. An annual fair named Jalvihar Mahotsav is held at Mauranipur, a district of Jhansi. The crowd was excited to witness the performance, and things swiftly spiralled out of control.
Users who posted about the incident on X (formerly Twitter) said as dancers took the stage, the crowd began to push and shove in order to get a better view. The dancers had to stop performing when some spectators started hurling things at the stage.
Many individuals were outraged by the video. While others lambasted the crowd for their disorderly actions, several individuals blamed the police for using too much force. 
In response to the viral footage, Jhansi Police stated that the event was held on Thursday (October 5) and that there were between 15,000 and 20,000 attendees. "Due to overcrowding, the barricades put up by the oranisers broke and people fell on each other, due to which some of the attendees received minor injuries. This sparked a fight within the crowd," the police said in a statement on X.
The policemen had to use stroke batons on the ground to scare unruly people away, and the programme finished safely.
Last Updated Oct 6, 2023, 6:21 PM IST