WATCH: Brave woman's daring snake rescue in Kolhapur store amazes internet users; video goes viral
The article showcases a woman's remarkable snake-handling skills, as she fearlessly rescues a snake in a store, earning praise and astonishment on social media.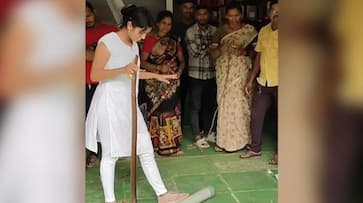 A woman with remarkable snake-handling skills has captured the attention of social media users in a world where many harbour a deep fear of snakes. The incident unfolded in a store in Maharashtra's Kolhapur, where a sizable snake had taken refuge. Displaying immense courage, the woman rushed in to rescue the reptile, leaving onlookers astonished. Shweta Sutar, known by her Instagram handle shweta_wildliferescuer, has shared multiple videos on her Instagram page, showcasing her adept snake rescue abilities.
Online users lauded the woman's bravery and hailed her daring act. However, several people were taken aback by the discovery of the elusive snake lurking within the store's inventory.
Since being posted on September 12, the video has garnered a plethora of comments, likes, and views on Instagram. One viewer expressed their astonishment, saying, "Omg! How are you even holding that thing in your hand? My soul would have left my body. I wouldn't make it past just looking at that snake." Another person humorously commented, "The snake seems to be so scared of you... what are you, a snake goddess?" A third individual commended her bravery, saying, "Hats off for your brave work."
In a similar vein, back in May of this year, Susanta Nanda, an Indian Forest Service officer, shared a spine-chilling video of a successful rescue involving a King Cobra hidden beneath a car.
"King Cobras are crucial to the food chain for maintaining ecological balance. Here is one nearly 15 feet long, rescued and released into the wild. The entire operation was conducted by trained snake catchers. Please don't attempt this on your own. With the onset of rains, they can be found in all sorts of places," Nanda emphasized in his video post.
Last Updated Sep 24, 2023, 9:39 AM IST