Swaraj to give stinging response to Pakistan at UNGA
The External Affairs Minister Sushma Swaraj is gearing up to give a stinging response to Pakistan at the UNGA today
"The whole world and the entire nation is waiting to hear from Swaraj, who will deliver India's vision document at the 71st UNGA," External Affairs Ministry spokesperson Vikas Swarup said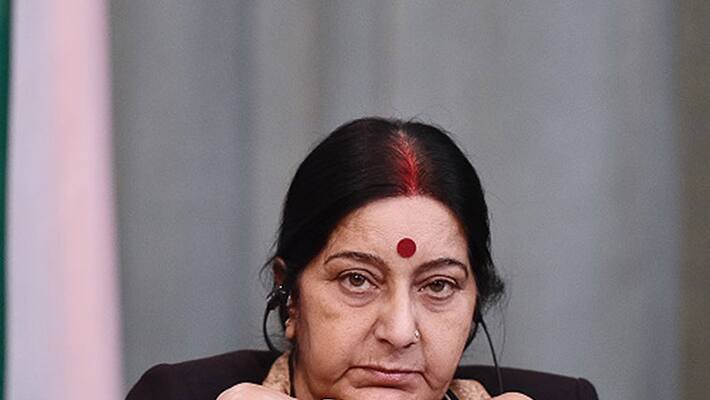 External Affairs Minister Sushma Swaraj on Monday will give a stinging response to Pakistani Prime Minister Nawaz Sharif's 'tirade' on Kashmir at the UN General Assembly and attack the country for using terrorism as an instrument of state policy.
"The whole world and the entire nation is waiting to hear from Swaraj, who will deliver India's vision document at the 71st UNGA," External Affairs Ministry spokesperson Vikas Swarup told reporters.
With a focus on tackling terrorism, India will corner Pakistan, which used the world body forum to talk extensively about Kashmir four days ago, for being a "terrorist state". India made its sharpest attack on Pakistan on Thursday, calling the country home to the "Ivy League of Terrorism" which carries out "war crimes" and pitches for talks with a "gun in its hand".
Outlining India's focus for the United Nations General Assembly (UNGA) session, India's envoy to the UN Syed Akbaruddin had said that terrorism is the "primary concern" for India as well as for nations across the world. Swaraj will address the UN general debate and is expected to give a stinging response to Sharif's speech.
"We are all looking forward to that," Swarup said. He did not elaborate on elements of Swaraj's address but said "I think the broad themes that Akbaruddin has outlined are definitely going to be a part of our presentation at this most important forum in the international community".
Swarup said one can also expect "a continued focus from India on the theme of terrorism which is today undoubtedly the single biggest challenge to international peace and security". Minister of State for External Affairs M J Akbar earlier said glorification of Burhan Wani, commander of the militant outfit Hizbul Mujahideen, by Sharif at the world forum is an act of "self-incrimination" by Pakistan.
He had also said it is "shocking" that a leader of a nation can "glorify a self-declared self-advertised terrorist" at a forum such as the United Nations General Assembly after Sharif hailed Wani - who was killed on July 8 by the Indian forces resulting in tensions in the Valley - as a "young leader" and the "symbol" of the Kashmiris' freedom movement.
First Secretary in the Permanent Mission of India to the UN Eenam Gambhir also made a strong rebuttal to Sharif's 'long tirade' about the situation in Kashmir, saying it is ironical that a country which has established itself as the global epicentre of terrorism, is preaching human rights and talks about the ostensible support for self-determination.
Exercising India's Right of Reply, she told the UN General Assembly that shortly before Pakistan gave its "hypocritical sermons" in the world body, its envoy in New Delhi was summoned in the context of the most recent of the terror attacks in Uri that claimed 18 Indian lives.
Last Updated Mar 31, 2018, 6:50 PM IST