Solar scam rocks Kerala Assembly; Massive showdown between Opposition and LDF
The Kerala Assembly discussed the CBI report on the solar scam case today at 1 p.m. after Speaker AN Shamseer admitted the adjournment motion moved by Palakkad MLA Shafi Parambil. However, the adjournment motion was rejected by the Assembly.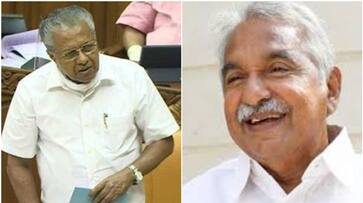 Thiruvananthapuram: Kerala Opposition leader V D Satheesan on Monday (Sep 11) said that it was a criminal conspiracy to corner former Chief Minister Oommen Chandy in a sexual scandal relating to the controversial solar scam. He called Chief Minister Pinarayi Vijayan as the prime accused in the case. The Chief Minister then asked Satheesan to file a complaint over his allegations.
Also read: Solar scam: Former forest minister KB Ganesh Kumar under CBI scanner; discussion today in Assembly at 1 pm
The arguments took place in the Kerala Assembly during a discussion of an adjournment motion presented by Congress MLA Shafi Parambil over the CBI's findings clearing Oommen Chandy of the allegations made by a woman complainant.
Satheesan argued that Pinarayi deserves to be referred to as the main conspirator as on the third day after taking over as chief minister in 2021, he persuaded the complainant to demand a CBI investigation into Oommen Chandy. Pinarayi denied the claim, saying that he had never met with the woman or anybody connected to her. 
The Speaker rejected the adjournment motion after a two-hour debate. The heated arguments were witnessed between the treasury and opposition lawmakers regarding the scandal that shook the state between 2011 and 2016 under the Oommen Chandy administration. 
The allegations made against LDF MLA K B Ganesh Kumar by the Congress leadership that he planned the plot against Oommen Chandy were all denied. He claimed that during his testimony before the CBI, he admitted that he was unaware of the sexual allegations made against Oommen Chandy. 
The CBI report alleging a conspiracy against Oommen Chandy in the sexual assault case connected to the solar scam was the subject of a discussion demand from the opposition. The adjournment motion was taken up for discussion from 1 p.m. to 3 p.m.
 
Last Updated Sep 11, 2023, 5:09 PM IST