Situation calm in Manipur; Security forces secure NH37, recover 35 weapons and war-like stores
Manipur Violence: Security forces are actively collaborating with civil society organizations and village leaders to foster peace and restore normalcy, while effectively fulfilling their duties of maintaining control over the areas and conducting regular patrols.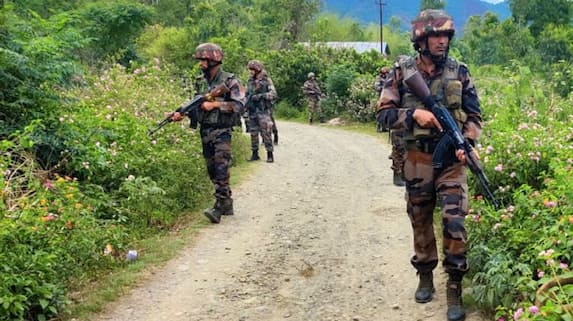 The security situation in violence-hit Manipur remained stable on Thursday as security forces continued Joint Combing Operations for the second consecutive day in both the Hills and Valley Sectors. 
According to the defence spokesperson, these operations were carried out with a 'people-friendly approach,' which included making announcements for the voluntary surrender of illegal arms prior to conducting targeted searches. 
Magistrates were present during search operations in non-AFSPA areas. On Thursday, a total of 35 weapons, ammunition, and war-like stores were recovered. 
As part of the ongoing combing operations, the security forces also ensured the safe movement of essential goods to and from Manipur by maintaining control over National Highway 37.
The security forces are diligently working on sustained confidence-building measures, adopting a people-centric approach, and taking measures to alleviate hardships, with the aim of de-escalating tensions and restoring normalcy as soon as possible, as mentioned by the spokesperson. 
Meanwhile, the central government has approved a relief package of Rs 101.75 crore for the displaced people in violence-affected Manipur, following a directive from Union Home Minister Amit Shah, as confirmed by the state government's security advisor, Kuldiep Singh.
Singh further assured that the situation in Manipur remained peaceful and under control, with no incidents of violence reported in the state over the past 48 hours. The security advisor also provided an update on the recovery efforts, stating that a total of 896 arms, 11,763 ammunition, and 200 different types of bombs had been recovered thus far.
Certain relaxations in curfew have been announced, with a 12-hour relaxation in five valley districts and a 10 to 8-hour relaxation in neighbouring hill districts. However, there is no curfew in six other hill districts. Singh highlighted the ensured movement of essential items along National Highway-37, mentioning that 294 empty vehicles had departed from Imphal to Jiribam on Thursday, along with the departure of loaded vehicles from Noney and Jiribam.
Senior officers have been visiting vulnerable areas and maintaining a presence there, ensuring strict security measures. Additionally, combined teams of state and central forces have intensified combing operations across various parts of the state. State ministers and MLAs have been visiting different areas, engaging with the public and civil society organizations, to appeal for peace and normalcy.
Security forces are also conducting meetings with civil society organizations and village leaders to advocate for peace and normalcy, alongside fulfilling their area domination and patrolling duties, as stated by Singh. 
The violence in Manipur erupted following the 'Tribal Solidarity March' on May 3, which was organized in the hill districts to protest against the demand for Scheduled Tribe (ST) status by the Meitei community. Over the past month, nearly 100 lives have been lost, and more than 300 people have been injured as a result of the ongoing ethnic violence.
Last Updated Jun 8, 2023, 9:51 PM IST