Rajasthan Election 2023: Vasundhara Raje back in BJP's scheme of things
The BJP has released its list of candidates for the upcoming Rajasthan assembly elections, and it includes former Chief Minister Vasundhara Raje. The move signifies the party's effort to maintain political equilibrium while recognizing Raje's broad appeal.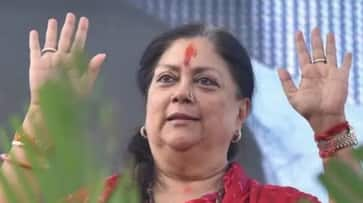 Former Rajasthan Chief Minister Vasundhara Raje has been included among the 83 candidates announced by the Bharatiya Janata Party for the upcoming state assembly elections. She is set to contest from her traditional seat in Jhalrapatan. Raje's recent political interactions have been marked by conflicts with Union Minister Gajendra Singh Shekhawat, and she has not been prominently featured in the BJP's election campaign so far. This strained relationship dates back to Raje's opposition to Shekhawat's appointment as the BJP chief in Rajasthan in 2018, as she believed it would alienate the Jat community from the party during the 2018 elections.
For More Election Stories From Rajasthan, Click HERE
Initially, Raje's absence from the BJP's first list of candidates garnered strong reactions from the opposition. However, in an effort to balance political dynamics, several of Raje's supporters have been included in the new list announced by the BJP.
Following the Central Election Committee meeting held on Friday, attended by Prime Minister Narendra Modi and party president JP Nadda, the BJP seems to have chosen to rely on Raje's popularity, given her broad appeal to various voter bases within the state.
Vasundhara Raje hails from the Scindia royal family, the former rulers of Gwalior, now in Madhya Pradesh. Her family has a rich political legacy, with her mother Vijayaraje Scindia being a prominent leader in the Bharatiya Jana Sangh (BJS) and later in the BJP. Additionally, her brother, Madhavrao Scindia, was a prominent leader in the Congress.
In its second candidate list, the BJP has also named Narpat Singh Rajvi as the candidate for the Chittorgarh constituency, previously denied to the five-term MLA. Rajvi is the son-in-law of the revered party leader Bhairon Singh Shekhawat, and his exclusion from the initial list sparked controversy within the party.
The BJP's decision to reconsider Rajvi's candidature is seen as a damage-control effort following his strong reaction and reference to his family's political legacy in his criticism of the party's initial decision.
The upcoming elections are scheduled to take place in the five significant states of Chhattisgarh, Madhya Pradesh, Rajasthan, Telangana, and Mizoram between November 7 and 30, with the results to be announced on December 3, as per the Election Commission. In Rajasthan, all 200 seats will see voting on November 25.
In the 2018 assembly polls, the Congress secured 100 seats, while the BJP won 73. Eventually, the Congress formed the government, and Ashok Gehlot became the Chief Minister with support from the Bahujan Samaj Party, which had won six seats.
For More Election Stories From Rajasthan, Click HERE
Last Updated Oct 21, 2023, 3:47 PM IST