Rajasthan Election 2023: 'I feel that I can retire now,' says Vasundhara Raje on son's speech during rally
BJP leader Vasundhara Raje, who is often seen as an aspirant to the chief minister's post in Rajasthan, said she felt she could retire now - linking the remark to her MP-son's progress as a people's representative.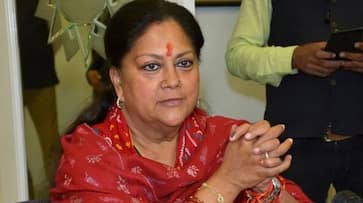 Bharatiya Janata Party (BJP) leader and former Rajasthan Chief Minister Vasundhara Raje stated that she felt she could step down from politics after listening to her son's speech and observing his advancement as a public servant. At the meeting, she highlighted the development work in the region over the past three decades, mentioning roads, water supply projects, and air and rail connectivity.
Speaking at a public meeting in Jhalawar, where her son was also present, Raje said, "After listening to my son, I feel that I should retire as you all have trained him so well that I don't need to keep pushing him."
"All the MLAs are here and I feel that there's no need to keep an eye on them as they will do the work for the people on their own. This is Jhalawar," she said.
Also Read | Smriti Irani slams Bhupesh Baghel, alleges Congress fighting polls with help of 'hawala operators'
"Today, people ask where Jhalawar is. People want to invest here." Raje said hearing her son speak, she felt that she could retire now. "Yeh mujhe lag raha hai ki ab mein retire ho ja saktee hun ( I feel that I can retire now)," former Rajasthan Chief Minister said.
People have given the correct training and affection to "sansad sahab" and put him on the right path, she said, adding that she does not need to worry about him.
For the assembly elections on November 25, Raje is scheduled to submit her nomination papers from the Jhalawar assembly constituency on Saturday.  Over the past several months, there has been speculation about the role of the five-time MP and four-term MLA if the Bharatiya Janata Party (BJP) wins the election. The counting of votes for the polls to the 200-member assembly will take place on December 3.
Also Read | Lok Sabha election 2024: Congress to release possible candidates list within 3-4 days
Last Updated Nov 4, 2023, 12:11 PM IST