Lok Sabha election 2024: Congress to release possible candidates list within 3-4 days
DK Shivakumar, President of Karnataka Pradesh Congress Committee, and Deputy Chief Minister, discussed Congress' preparations for the 2024 Lok Sabha elections. They are finalizing candidate lists, appointing observers, and focusing on welfare schemes. Shivakumar criticized the BJP for divisive policies and highlighted Indira Gandhi's legacy. He also mentioned the "Grilahakshmi Yojana," empowering women economically.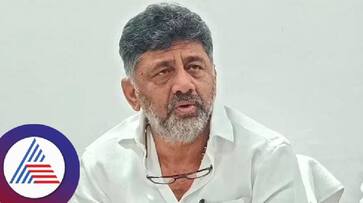 With the 2024 Lok Sabha elections approaching, DK Shivakumar, the President of the Karnataka Pradesh Congress Committee (KPCC) and Deputy Chief Minister DK Shivakumar shared that the Congress party is actively preparing for the upcoming polls. They are nearing the finalization of their list of potential candidates, and this process is expected to be completed within the next three to four days.
Shivakumar revealed that they have already appointed observers for all Lok Sabha constituencies, and they have made significant progress in selecting candidates. In about 75% of the constituencies, these observers have engaged with party activists, held discussions, and created detailed reports about potential candidates. However, these reports have not yet reached the KPCC for further assessment.

Lok Sabha elections 2024: Is Kangana Ranaut to contest on BJP ticket? Here's what Tejas actress said
While recognizing the valuable input from senior party members, Shivakumar expressed the party's commitment to presenting the final list of potential candidates within the specified timeframe.
In the realm of politics, Shivakumar criticized the Bharatiya Janata Party (BJP) for what he perceived as an attempt to divide society through their policies and actions. He stressed that the Congress government consistently prioritizes schemes aimed at enhancing the welfare of the country's citizens. He accused the BJP of engaging in politics that exploit people's emotions rather than addressing their actual needs.
Drawing a comparison between the two parties, Shivakumar highlighted the legacy of former Prime Minister Indira Gandhi, who introduced policies like nationalizing banks and simplifying credit and money transactions to benefit the less privileged. In contrast, he criticized the BJP for what he saw as divisive tactics and a lack of financial contributions to the nation's development.

Telangana Election 2023: AIMIM to contest in nine Assembly constituencies, announces Asaduddin Owaisi
He also commented on the BJP's proposed name changes, suggesting they reflect a broader agenda to alter the fabric of Indian society. He found it amusing that the BJP was considering changing the name of the Indian Administrative Service (IAS) and saw it as emblematic of the BJP's approach.
Regarding Congress policies, Shivakumar emphasized the implementation of the "Grilahakshmi Yojana," designed to empower women to support their families and mitigate the impact of rising prices. The scheme successfully delivered funds to the accounts of 1.10 crore women.
Last Updated Nov 4, 2023, 9:28 AM IST