Mysuru Dasara: South Western Railway announces special Bengaluru-Mysuru train; check details
South Western Railway is running special trains for Mysuru Dasara 2023, connecting Mysuru with Bengaluru and Chamarajanagar stations, ensuring convenient travel during the festival. Additionally, a fire broke out on the Marikuppam Express from Bengaluru to Marikuppam, caused by an electrical short circuit, but it was promptly extinguished with no casualties.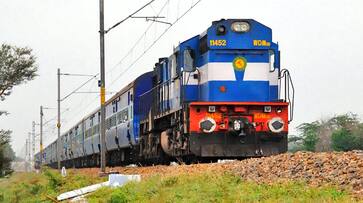 The South Western Railway has announced special trains on the occasion of Mysuru Dasara 2023 between Bengaluru and Mysuru to help the passengers. These trains will be connecting Mysuru with both Bengaluru and Chamarajanagar stations. 
The Mysuru-KSR Bengaluru-Mysuru Central Unreserved Special Train (06279/06280) will be available for five trips, departing from Mysuru at 11.15 pm between October 20 and 24, arriving at KSR Bengaluru at 2.30 am the following day. The KSR Bengaluru-Mysuru special train will leave KSR Bengaluru at 3 a.m. between the 21st and 25th, reaching Mysore at 6.15 a.m. the same day.

Over 2,000 trees to be cut for Bengaluru sub-urban railway project?
These trains will make stops at various stations, including Naganahalli, Mandya, Ramanagara, Kengeri, and Nayandahalli. Additionally, the Mysore-KSR Bangalore-Mysore (06597/06598) unreserved special train will operate for five trips. Departing from Mysore at 12.15 pm from the 20th to the 24th, it will arrive at KSR Bangalore at 3.30 pm on the same day. 
The return journey will see the train leave Bengaluru at 3.45 pm, reaching Mysore at 7.20 pm, all on the same day. These special trains aim to facilitate convenient travel for passengers during Mysuru Dasara.
Fire accident in Marikuppam express due to short circuit
Late on Thursday night, a tense situation unfolded at Malur railway station in Kolar district as a fire broke out on the Marikuppam Express. The train, en route from Bengaluru to Marikuppam, experienced an electrical short circuit in its undercarriage's top section.

Mysuru Dasara 2023: KSRTC to operate additional 2000 buses for passengers
The incident occurred when the Marikuppam Express, which departed Bengaluru at 8:30 PM and arrived in Malur at 9:46 PM, saw flames due to the short circuit. Passengers on board became alarmed, and some scattered as the fire grew.
Thankfully, the fire was swiftly extinguished after burning for around two minutes. The train, carrying over a thousand passengers, continued its journey, with passengers shifting to other carriages from the one that had caught fire. Fortunately, no accidents resulted from this incident.
Last Updated Oct 14, 2023, 12:16 PM IST