Multiple accidents on Bluru-Mysuru Expressway: Car goes up in flames, Mandya SP escapes tragedy
A chain of accidents on the perilous Bengaluru-Mysuru highway involved a speeding lorry colliding with a car, triggering multiple collisions, with one car catching fire. No fatalities were reported, but the incident highlights the ongoing safety concerns on the highway. In a separate incident, a BMTC bus collided with a student's bike in Yeshwantpur, tragically leading to the student's death, underlining the dangers on busy routes like Bengaluru's expressways.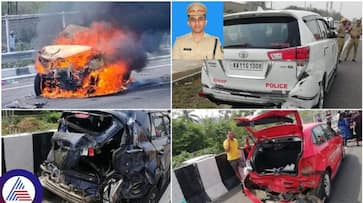 A horrifying chain of accidents unfolded on the perilous Bengaluru-Mysuru ten-lane highway, notorious for its frequent mishaps. The chaos began when a speeding lorry ploughed into a car, setting off a cascade of collisions along the route. In the aftermath, one vehicle caught fire, adding to the severity of the situation.
This severe incident occurred near Gauripura village in the Srirangapatna taluk of Mandya district. The initial collision transpired when the speeding lorry collided with a slower-moving car, causing the latter to lose control and collide with the cars ahead. Several vehicles, including the one belonging to Mandya District Superintendent of Police Yatish, suffered damage.

Bengaluru: 7 bikes razed in fire accident at Vijayanagar; check details
Amidst the chaos, one car burst into flames. The occupants of the burning car managed to escape, their doors locked by the force of the impacts. Rescued by the quick response of police on the scene, they shattered the car's windows to flee the burning vehicle.
Even SP Yatish's vehicle sustained significant damage, and no lives were lost in the accident. The incident has resulted in a case registered at the Srirangapatna Rural Police Station. The Bengaluru-Mysuru Expressway, often referred to as the "Death Highway," continues to be a hotspot for accidents, emphasizing the pressing need for increased safety measures on this treacherous route.

Bengaluru: BMTC bus claims life of three-year-old

BMTC bus rams over student at Yeshwantpur
In a separate incident at Yeshwantpur in Bengaluru, a tragic mishap occurred as a BMTC bus collided with a student's bike near the flower market along Gareppana Palya road. The collision tragically claimed the life of Gangadhar, a 21-year-old engineering student, as the bus struck his bike from behind, leading to his instantaneous demise. 
The BMTC bus ran over Gangadhar's head, causing fatal injuries. Sources state that he was on his way to HAL to collect the internship letter.  His body was sent to MS Ramaiah Hospital for a post-mortem report. Yeshwantpur traffic police visited the accident site. The incident has prompted a police investigation and serves as a sombre reminder of the perils on the road, particularly on highly frequented routes like the Bengaluru-Mysuru expressway.
Last Updated Oct 14, 2023, 1:17 PM IST