Kerala: 'Regretful' thief returns stolen gold chain worth over Rs 50,000 in Palakkad
A thief in Palakkad stole a gold chain from a three-year-old child, however, returned it to the family as he lost peace of mind. Though he sold the gold chain, he returned the money got from selling it.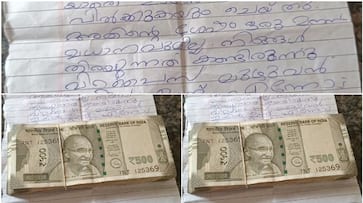 Palakkad: There aren't many accounts of robbers confessing their crimes, however, one such story emerged from Palakkad. Here, a thief who stole a gold chain expressed regret for his actions. The thief submitted an apologetic letter and Rs 52,500 to the owner's house in Kumaranellur after selling the gold necklace, expressing regret. The thief who took the jewellery and lost his peace of mind came to regret it.
Also read: 'Constitution uses both names...' Kerala Governor backs NCERT over name change of India to Bharat in textbooks
On the 19th, the thief stole the gold necklace of Kunhan's son Shihab's three-year-old daughter from the house near Kumaranallur AJB School. A gold necklace weighing a quarter of a pavan used to hang around the child's neck every time the child had a bath. Meanwhile, the family went to a shop in Kumaranellur with the child and immediately came back to find out that the necklace had been stolen.
After two days, the thief put Rs 52,500 in an envelope with an apology note behind the house near the kitchen and left the place. The thief brought the money and the note when the family was resting in the afternoon.
The note apologises for stealing and selling the jewellery, says there is no peace after finding what you're looking for, and asks for their forgiveness. It intrigued the family and the community that the thief gave back the money in exchange for the necklace, which was heavier than a pavan (sovereign). Even if the money is in cash, the family is nonetheless happy to receive it back.
 
Last Updated Oct 26, 2023, 5:09 PM IST