Kerala News Highlights: Veteran CPM leader Anathalavattom Anandan passes away
Kerala News Highlights: Veteran CPM leader Anathalavattom Anandan passes away.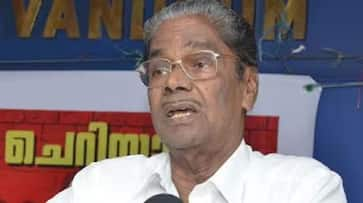 6.00 PM: Veteran CPM leader Anathalavattom Anandan passes away
Senior CPM leader and CITU state president Anathalavattom Anandan passed away. He was 86. Anathalavattam was under treatment for a long time due to cancer. He passed away this evening at the Medical College Hospital in Thiruvananthapuram. The body will be brought to the AKG Center tomorrow at 11 am for public viewing till 3 pm. The final rites will be held at Shanthikavadam at 5 pm.
---
3.30 PM: Kerala to receive light rainfall in next five days
The heavy rain experienced in the state for the last few days has eased. The India Meteorological Department has informed that there is a chance of light rain in Kerala for the next 5 days. No special rain warnings have been issued.
---
3:00 PM: Kerala government provides free bus travel for students from extremely poor families
The Kerala government provides free bus travel to the students from extremely poor families in KSRTC and private buses. The order will come into effect from November 1.
---
2:20 PM: Fire breaks out in Trends showroom in Kozhikode
A fire broke out in Trends showroom in Kozhikode on Thursday (Oct 5). Four fire units from Kozhikode fish market and beach rushed to the spot to douse the blaze. The fire broke out in the warehouse on the third floor
---
1.45 PM: Monthly 'payment' controversy: Mathew Kuzhalnadan demands inquiry against CM
Congress MLA Mathew Kuzhalnathan filed a complaint with Vigilance seeking an investigation against the Chief Minister in the monthly 'payment' controversy. Kuzhalnadan gave a complaint directly to the director of vigilance asking for a case to be investigated. Mathew Kuzhalnathan said that evidence has been handed over along with the complaint demanding an investigation against the Chief Minister and his daughter and will prove that PV stands for Pinarayi Vijayan. 
---
1.00 PM: Idukki man sentenced to 80 years for raping, impregnating 14-year-old
A man who raped a 14-year-old girl and made her pregnant in Idukki has been sentenced to 80 years rigorous imprisonment and a fine of Rs 40,000. The sentence was pronounced by Judge TG Varghese of the Idukki Fast Track Court. The incident took place in the Rajakkad police station's jurisdiction in 2020. The girl, his relative, was raped when the accused's wife was not at home. The incident came to light when the girl delivered a child.
---
12:27 AM: 13 arrested for gambling in Idukki
The police have arrested a group of people who were gambling with money at various centres in Idukki. Police arrested 13 people in this case, and Rs. 1,36,395 was also seized from them.
---
11:50 AM: Fisherman dies in Muthalapozhi accident
A fisherman died after the boat capsized in Muthalapozhi harbour on Thursday(Oct 5). The deceased was identified as Naufal, a native of PuthukkuruchI. He was rushed to the hospital, but his life could not be saved.
---
11:15 AM: Kerala HC asks CBI to further investigate case in Violinist Balabhaskar's death 
The Kerala High Court on Thursday (Oct 5) directed the CBI to further investigate the violinist Balabhaskar's death case. Additionally, the court ruled that any conspiracy must be identified. The High Court's decision was based on the father of Balabhaskar's petition. Additionally, the CBI has been instructed to wrap up the inquiry in three months. 
---
10.45 AM: Karuvannur Bank scam: Peringandur Service Cooperative Bank secretary to be interrogated
The Peringandur Service Cooperative Bank secretary TR Rajan will be interrogated by the ED in connection with the Karuvannur Bank scam. 
---
9.45 AM: Lakshadweep MP Mohammad Faizal moves SC seeking stay on conviction
---
9:35 AM: Actor Shiyas Kareem arrested in Chennai airport 
Malayalam actor Shiyas Kareem was arrested at Chennai airport in connection with a rape allegation. He was coming back from Dubai and was detained by the immigration officials at the airport. The Chandera police will reach Chennai and arrest him.
Read More: Malayalam model Shiyas Kareem held in Chennai over sexual assault case
---
9:25 AM:  Dolphin No. 27 tug reaches Vizhinjam port; Dolphin No. 37 to reach today
Thiruvananthapuram: The second tug has arrived at Vizhinjam International Port to bring the cargo ship Shenhua-15 from China. Adani Port Company's tug Dolhin 27 docked at the Vizhinjam port on Wednesday (Oct. 4). Four tugs were brought to Vizhinjam to bring the cargo ships. Port purser Vinulal said that the tug Dolphin 37 will also arrive at the port today (Oct 5). The Dolphin tug was brought from Dahej port in Gujarat.
---
9.10 AM: Kozhikode regional level meeting today; Chief Minister, team to attend 
Kozhikode region-level review meeting will be held today under the leadership of Chief Minister and Ministers. A review meeting of Kozhikode, Kannur, Wayanad and Kasaragod districts is being held at Cheruvannur Marina Convention Centre. National Highway, Hill Highway, Coastal Highway, Wayanad Tunnel, Garbage Mukta Kerala, Green Kerala Mission, Poverty Alleviation, Life Mission, Comprehensive Education Revival Programme, Jaljeevan Mission, Ardrum Mission, International Research Center for Ayurveda, Kovalam-Bekal Inland Navigation and other issues related to four districts will be discussed in the meeting.
---
8:40 AM:  Gas leaks at Puthuvype IOC Plant; 3 hospitalised
Kochi: A gas leaked from Indian Oil Corporation's plant at Puthuvype in Ernakulam district on Wednesday (Oct 4). Three people felt sick after inhaling the gas and were admitted to the hospital. The reason for the leakage is not clear yet.
---
8:15 AM: Acid tanker leaks near Punalur in Kollam
A leak was found in an acid tanker near Punalur in Kollam. The leak was found in a lorry carrying acid from Cochin Chemicals to Tamil Nadu. The incident took place at Vellimala near Punalur on the Kollam-Tirumangalam highway. A technician has been sent from Rajapalayam in Tamil Nadu to fix the leak. The vehicles passing through the national highway are being diverted via Punalur
---
7.52 AM: Tusker Padayappa enters Munnar's Chenduvarai Estate
The wild tusker Padayappa was spotted again in Munnar on Wednesday evening. The elephant destroyed crops near Chenduvarai Estate.
---
7.47 AM: Holiday for schools to continue today due to rain
Various schools in the Thiruvananthapuram and Kottayam districts are closed today due to heavy rains. A restricted holiday has been announced for various schools in two districts as relief camps are running in the face of severe rains. The district collector has announced holidays for three schools belonging to Thiruvananthapuram taluk in Thiruvananthapuram district. These schools are not functioning today. Relief camps are running at Konchiravila UP School, Vettukad LP School and Government MNLP School in Vellayani. A holiday has been given to these schools today. The Kottayam Collector has informed that Thursday (October 5, 2023) will be a holiday for the schools running relief camps in the district and Vellore St. John's UPS, Thiruvarpu St. Mary's LPS and Kilirur SNDPHSS in the flood affected areas.
 
Last Updated Oct 5, 2023, 10:05 PM IST