Kerala launches 'Ayyan' mobile app to assist pilgrims during Sabarimala season
The 'Ayyan' app was launched by Kerala's Forest Minister A K Saseendran on Thursday (Nov 9) to assist devotees during the Sabarimala pilgrimage.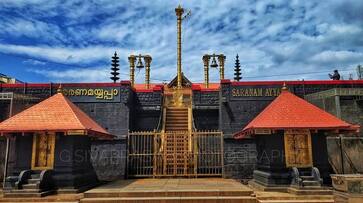 Pathanamthitta: Forest Minister A.K. Saseendran on Thursday (Nov 9) launched the Ayyan mobile app at Pamba Srirama Saketam Auditorium to assist devotees during the Sabarimala pilgrimage. The Periyar Wildlife Sanctuary West Division developed the app, which provides information on all aspects of the pilgrimage. The app also shows services available at Pampa and Sannidhanam and along the Swami Ayyappan Road, Pampa-Neelimala-Sannidhanam, Erumeli- Azhutakadav-Pampa and Satram-Uppupara-Sannidhanam routes. 
Also read: Che International Chess Festival, organised jointly by Kerala and Cuba, to be held in Thiruvananthapuram
The app provides information about the service centres along the traditional forest routes, medical emergency units, accommodation, elephant squad teams, public toilets, distance from each base to Sannidhanam, free drinking water distribution points etc. 
The 'Ayyan' app can be downloaded from the Google Play Store and is available in five languages- Malayalam, Tamil, Kannada, Telugu and Hindi. Additionally, the app can be downloaded by scanning the QR code at the forest path access areas.
Along with details about the Sabarimala temple and the Periyar Wildlife Sanctuary, where it is situated, the app also includes general standards and etiquette that pilgrims must adhere to during their journey.
In addition to emergency helpline numbers and route warnings, the app will work online and offline. The Kanjirappally-based Leopard Tech Lab Private Ltd provided technical support for the app's development.
Last Updated Nov 10, 2023, 10:32 AM IST