Kerala CPI(M) backs CM Pinarayi Vijayan's daughter Veena Vijayan over 'payments'
Monthly quota controversy of Veena Vijayan: A contract for IT and marketing consulting services from Veena was signed with the CMRL in December 2016. In March 2017, a new contract for software services was made with Veena's firm, Exalogic. These indicated that Exalogic and Veena each have to receive Rs. 3 lakh and Rs. 5 lakh each month, respectively.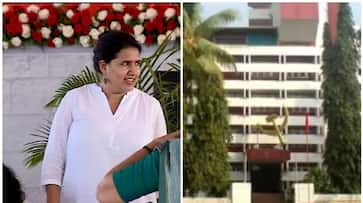 Thiruvananthapuram: The Communist Party of India (Marxist) (CPIM) on Thursday (Aug 10) came out in defence of Kerala Chief Minister Pinarayi Vijayan's daughter claiming that a legitimate payment had been made out to be a monthly payoff.
In a statement, the CPI(M) said, "Two legitimate companies entered into a service agreement with each other legally. Money was given on an annual basis as per conditions specified in the agreement."
Nothing wrong in taking donations: Opposition leader V D Satheesan on 'monthly quota' controversy
"Children of politicians have the same right as all other citizens to take up any legitimate occupation. On this basis, Veena started a consulting company too. All the activities of the company are transparent. The company which gave the money has also stated that nothing wrong has been done in this regard. It is also clear that the chief minister does not have any links (with this issue)," the statement read.
"The conspiracy to somehow drag Chief Minister's name into the Settlement Order of the company is amply clear. Especially so when what was said was said without so much as seeking comment from Veena. The surprising element is that the news made name references in a Court Order that has fully exempted the concerned company from further proceedings and fine.
"For a long time, right-wing Kerala media has been presenting news given by central agencies and others exaggeratedly. At the same time, they are not ready to protest against the central government's policies. These media reports should be evaluated as a part of this," it added.
Kerala Chief Minister's daughter Veena Vijayan allegedly received Rs 1.72 crore from a private company Cochin Minerals and Rutile Limited (CMRL) in monthly installments in the last three years. According to reports, Veena and her company, Exalogic Solutions, had a contract with the CMRL to offer the latter IT, marketing consulting, and software services. The income tax department has reportedly claimed that no services were, however, provided.
Last Updated Aug 10, 2023, 4:07 PM IST