Nothing wrong in taking donations: Opposition leader V D Satheesan on 'monthly quota' controversy
After the revelation of Kerala Chief Minister's daughter Veena Vijayan allegedly receiving Rs 1.72 crore from a private company, the Opposition was expected to corner the government. However, they remained silent on the issue.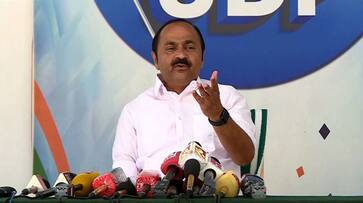 Thiruvananthapuram: Opposition leader V D Satheesan on Thursday (Aug 10) said that the media does not decide what the Opposition should address in the Legislative Assembly. Satheesan was addressing the media over the issue of not bringing a necessary resolution to the Veena Vijayan, daughter of the chief minister, "monthly quota" scandal. He claimed that because Veena Vijayan's problem would not be upheld under sections 50 to 52 of the Kerala Legislative Assembly's Rules of Procedure and Conduct of Business, the opposition did not bring it up before the Assembly.
Also read: Why Opposition is NOT making a hue and cry over 'payments' to Kerala CM Pinarayi Vijayan's daughter
The Opposition leader said, "Does the media track the opposition's reluctance? The day to talk about the bills was yesterday. We cannot stir up monthly quota controversy in the middle of that conversation. The topic was covered by the news in the morning, but the Assembly's agenda had already been published. Today's conversation would focus on two issues. A note objecting to this would have been disregarded. There is yet another provision for filing charges of corruption. We acted in the Tanur custodial death case for that reason."
Following the revelation that Veena Vijayan, daughter of Chief Minister Pinarayi Vijayan, was allegedly paid Rs 1.72 crore, it was anticipated that the Opposition, led by V D Satheesan, would attack the Left government in the Assembly on Wednesday. When the names of their own leaders turned up on the list of people who received the funds from the privately owned sand mining company Cochin Minerals and Rutile Limited (CMRL), the UDF decided to keep quiet about the charges.
"What's wrong with political parties accepting donations from entrepreneurs? Taking donations has no negative connotations. Do you use the funds you bring from home to fund political activity? The funding is available to all political parties. Money is required for their work and political initiatives. Money is also accepted even from expatriates," Satheesan said.
CM Pinarayi Vijayan's daughter Veena Vijayan allegedly received Rs 1.72 crore from CMRL in monthly installments in the last three years. According to reports, Veena and her company, Exalogic Solutions, had a contract with the CMRL to offer the latter IT, marketing consulting, and software services. The income tax department has reportedly claimed that no services were, however, provided.
 
Last Updated Aug 10, 2023, 2:45 PM IST