Kalamassery blast: Prime accused Martin Dominic made bombs at his house
The police have confirmed that Dominic Martin, who surrendered before the Kodakara police after the blast at a convention centre in Kalamassery, Ernakulam, is the accused in the case. According to the police, the accused made bombs at his house to show his protest against Jehovah's Witnesses.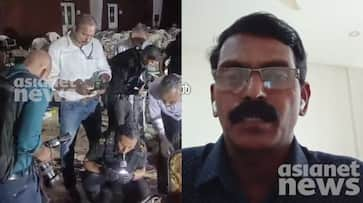 Kochi: The Kochi police confirmed on Sunday (Oct 29) that the blast at the Kalamassery Convention Centre was carried out by Dominic Martin, who surrendered before the Kodakara police. The visuals of him detonating the bomb using a remote control were recovered from his mobile phone. He learned to make IED bombs from the internet within six months. 
Also read: Kalamassery blasts case: Suspect Dominic Martin charged under UAPA; death toll rises to two
Following an examination of his evidence, the top officers verified that Dominic Martin was the prime accused. Dominic Martin's revelation was deemed accurate by the police investigation. He also provided evidence to the police to back up his allegations. He had captured the explosion video on his mobile phone. He handed over the evidence to the police. Upon arriving at the convention centre at 9.40 a.m., Dominic Martin sets off the two IED devices inside the box and then flees after activating it using a remote control.
The police also said that the accused prepared the explosive device at his home in Thammanam, Kochi. There are two rooms in the house and Martin uses one room, for which he used to make the bomb. His wife and daughter uses the other room.
Dominic Martin is a foreman in Dubai who possesses the necessary technical knowledge. Dominic prepared the explosive the day before the blast, according to the authorities.
Dominic Martin committed the crime by himself, the police concluded. According to the authorities, there is also no proof that he had assistance from anyone else. The police said, "We need to find out where he got the components needed to create the bomb."  Dominic Martin might be presented at the scene for evidence today.
The shocking blast that took place at the  Zamra International Convention & Exhibition Centre in Kalamassery, Kerala during a meeting of Jehovah's Witnesses left three people dead and multiple injured. 
Before surrendering, the suspect posted a video message on Facebook claiming responsibility for the IED blast. He claimed that the bombing was executed due to his opposition to Jehovah's Witnesses and that he had been a member of the group for 16 years. Dominic says in the video that he realised the Jehovah's Witnesses as a treasonous organisation six years ago and that others will be destroyed by their propaganda. He also said that ordinary people like him will react if those who spread false ideas are not brought under control. 
Last Updated Oct 30, 2023, 11:46 AM IST