Kalamassery blasts case: Suspect Dominic Martin charged under UAPA; death toll rises to two
One man, claiming to be a member of Jehovah's Witnesses, surrendered before police in Thrissur district of Kerala, claiming responsibility for the multiple blasts at the Christian religious gathering at Kalamassery on Sunday morning.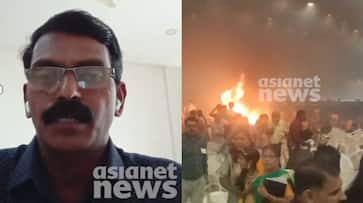 In Thrissur district of Kerala, a self-proclaimed member of Jehovah's Witnesses turned himself in to the police, taking responsibility for the series of blasts that took place during a Christian religious gathering in Kalamassery on Sunday. The individual, identified as Dominic Martin, surrendered at the Kodakara police station, asserting that he was the person behind the detonations. He provided evidence to support his claim, currently under investigation by the authorities to ascertain its validity and motivations for the act. According to latest reports, the police have invoked the Unlawful Activities Prevention Act, 1967 (UAPA) against Dominic Martin.
Also read: Who is Martin Dominic, the suspect behind Kalamassery blast?
The Kalamassery police formally lodged a First Information Report (FIR) at the Principal District and Sessions Court in Ernakulam, the designated court for handling offenses under the UAPA, on Sunday afternoon. Alongside the UAPA, the police have applied Sections 302 (Punishment for murder) and Section 307 (Attempt to murder) of the Indian Penal Code, along with the provisions of the Explosive Substances Act 3 (a) in the case.
The application of Section 15 of the UAPA refers to a terrorist act. This section encompasses any action intended to threaten or likely to threaten the unity, integrity, security, or sovereignty of India or to create terror or likely to strike terror among the people or specific sections of the populace in India or any foreign country. Specifically, Subsection (a) of the Act pertains to acts of terror using bombs, dynamite, explosive substances, inflammable materials, or firearms resulting in or likely to cause death or injuries to individuals.
Regarding penalties, Section 16 of the UAPA addresses the punishment for terrorist acts. It stipulates a sentence of either death or life imprisonment if the terrorist act has led to the death of any individual.
In the event that the National Investigation Agency (NIA) assumes control of the investigation, the case will be moved to the Special Court for NIA located in Kochi.
Although no individual has been named in the FIR, an individual claiming responsibility for the act surrendered to the police. However, the police emphasized the need to verify the statements of the person and collect additional evidence linking them to the offense. Additionally, Martin claims affiliation with the Jehovah's Witnesses, a Christian religious group originating in the United States during the 19th century.
Meanwhile, police have heightened security across Kerala after two women tragically lost their lives, and more than 52 individuals sustained injuries as a results of the explosion. 53-year-old woman named Kumari from Thodapuzha succumbed to her burn injuries in the evening after suffering over 90 per cent burns in the blast.
Also read: Kalamassery blasts: Alerts issued in Delhi, Maharashtra and Tamil Nadu; security stepped up
Last Updated Oct 29, 2023, 10:27 PM IST