Jantar Mantar: At least 50 pro-Palestine supporters detained for denouncing Israel over Gaza action (WATCH)
At least 50 people were detained for protesting against Israel's war against Hamas at Delhi's Jantar Mantar on Monday, police said.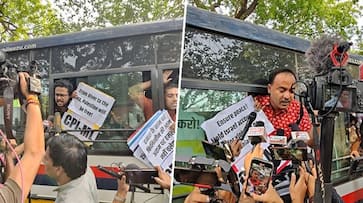 In a show of solidarity with the people of Gaza, protesters gathered at Delhi's historic Jantar Mantar to denounce Israel's actions against Hamas. At least 50 demonstrators were detained by the police during this protest on Monday. The protest was organized by various organizations, including the leftist All India Students' Association, who came together to express their concerns over the ongoing conflict.
The protest saw over 100 individuals congregating at Jantar Mantar, a well-known hub for demonstrations and protests in the heart of Delhi. Their primary aim was to voice their dissent against Israel's military actions in the Gaza Strip. While the intentions behind the gathering were peaceful and aimed at highlighting a humanitarian issue, the protesters did not have the necessary permission to assemble, leading to their detainment by law enforcement.
Also read: Hamas arsenal exposed: Inside the cache seized by Israel Defence Forces (WATCH)
"Over 100 persons had gathered at the Jantar-Mantar to protest. Since the protesters did not have permission, they were detained. Heavy police force deployment has been arranged to maintain law and order conditions," a police officer said.
Heavy police force deployment was organized to maintain law and order conditions during the demonstration. Delhi Police officers were present to ensure the safety of all individuals involved, prevent any potential unrest, and enforce relevant legal procedures.
The protest reflects a growing global concern over the situation in Gaza, where a conflict between Israel and Hamas has led to civilian casualties and extensive property damage. As news of the unrest continues to dominate headlines, people worldwide are expressing their opinions and demanding a peaceful resolution to the crisis.
Also read: Surviving terror: Jonathan Diller's harrowing account of Nova Festival massacre by Hamas in Israel (WATCH)
Last Updated Oct 16, 2023, 4:44 PM IST