Pant car accident: 'Saw a car being driven at a lot of speed, crash into the divider' - Rescuer Sushil Kumar
Rishabh Pant barely escaped without any life-threatening injury during his severe car crash on Friday. Meanwhile, rescuer Sushil Kumar narrated how his speeding car rammed into the divider and caught fire.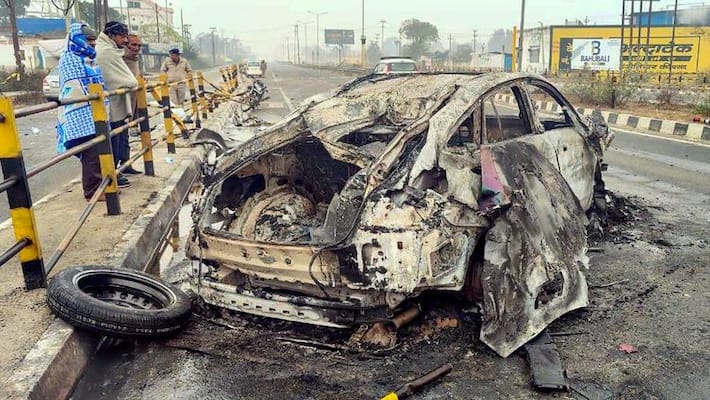 Young Indian wicketkeeper-batter Rishabh Pant made headlines on Friday morning after suffering a severe car accident. Although he did suffer some injuries, he escaped without suffering life-threatening ones. He is currently being treated at the Max Hospital in Dehradun, as the incident happened while he was en route to give his mother a surprise visit in his Rourkee home. His condition continues to be stable, and the doctors have affirmed that he is out of danger. However, given the extent of his injuries, his quick return to cricket looks unlikely. Meanwhile, he was reportedly rescued from his flaming car by a Haryana Roadways employee Sushil Kumar, who narrated the entire incident.
Talking to Hindustan Times, Sushil narrated, "I am a driver with Haryana Roadways, Panipat depot. Our bus left Haridwar at 4.25 in the morning. I was on my way when I saw a car being driven at a lot of speed, get off balance and crash into the divider. After the impact, the car landed on the wrong side of the road - the one that goes to Delhi."
ALSO READ: RISHABH PANT CAR ACCIDENT - WICKETKEEPER LIKELY TO MISS AUSTRALIA SERIES AND IPL 2023
"The car had screeched onto the second lane of the road, seeing which I immediately applied the brakes. The car had already caught sparks, so the conductor [Paramjeet] and I rushed to get him out of the car. By then, the fire has started. Then, three more people came running and got him on the safe side," added Sushil.
"I called the National Highway, but no one answered. Then I rang up the police and the conductor called for an ambulance. We kept asking him if he is he fine. We offered him some water. After regrouping, he told us he was Rishabh Pant. I don't follow cricket, so I didn't know who he was, but my conductor told me, 'Sushil... he is an India cricketer'," Sushil continued.
ALSO READ: Rishabh Pant car accident - Netizens wish speedy recovery amid stable condition of young wicketkeeper-batter
"He [Pant] gave us his mother's number. We called her, but her phone was switched off. The ambulance arrived after 15 minutes, and we got him in. I asked him if he was alone in the car. He said there is no one," concluded Sushil.
Meanwhile, MRI reports have confirmed that his brain and spine are normal. The MRI on his ankle and knee are yet to be done. It was not performed on Friday due to excessive pain and swelling. The incident reportedly occurred around 5.30 AM.
Last Updated Dec 31, 2022, 12:20 PM IST