Greed prevents us from realizing the truth: PM Modi quotes Tagore at G20 Anti-Corruption Meet
"Besides strengthening our administrative and legal systems, we must foster a culture of ethics and integrity in our value systems," said PM Narendra Modi while addressing the G20 Anti-Corruption Ministerial Meeting virtually.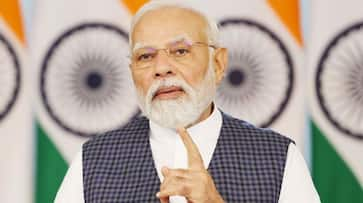 Prime Minister Narendra Modi on Saturday emphasized India's unwavering stance on eradicating corruption and highlighted that he country's approach adheres to a policy of zero tolerance against corruption, coupled with the strategic utilization of technology and e-governance to foster a transparent and accountable environment.
Addressing the G20 Anti-Corruption Ministerial Meeting virtually, PM Modi underscored the disproportionate burden borne by the poor and marginalized due to corruption, asserting that its ramifications encompass compromised resource utilization, market distortions, service delivery hindrances, and the overall deterioration of people's quality of life.
Drawing from the insights of Tagore's writings, PM Modi cautioned against the detrimental impact of greed, obstructing the realization of truth. He invoked the teachings of ancient Indian Upanishads, particularly emphasizing the principle of 'Ma Gridha,' advocating a restraint from greed. "Greed prevents us from realizing the truth," he said, adding that "India has a strict policy of Zero Tolerance against corruption".
Quoting Kautilya's Arthashastra, PM Modi underscored the government's responsibility to enhance state resources for the maximum welfare of the populace. He deemed combating corruption as a fundamental obligation of the government towards its citizens.
PM Modi highlighted ongoing efforts to rectify leaks and gaps within welfare schemes and governmental initiatives. Notably, he mentioned that millions of individuals in India have directly received benefits through bank transfers, amounting to over 360 billion dollars, resulting in savings exceeding 33 billion dollars.
He highlighted the transformative impact of the government's e-Marketplace (GeM) portal, which has introduced greater transparency to government procurement processes. PM Modi discussed the enactment of the Economic Offenders Act in 2018, revealing the government's proactive approach in pursuing economic offenders. He shared that assets worth more than 1.8 billion dollars have been recovered from these offenders and fugitives.
Additionally, PM Modi acknowledged the effectiveness of the Prevention of Money Laundering Act (PMLA) since 2014. This act has facilitated the attachment of assets belonging to offenders, an endeavour that has surpassed $12 billion.
Last Updated Aug 12, 2023, 11:22 AM IST