Explained: Why Vijayashanti quit BJP to rejoin the Congress
Telugu actor and politician Vijayashanti's departure from the BJP and return to the Congress in Telangana has stirred political dynamics. Vijayashanti said she was disappointed in the BJP's failure to act against BRS chief KCR despite multiple claims of the Telangana CM being the most corrupt person.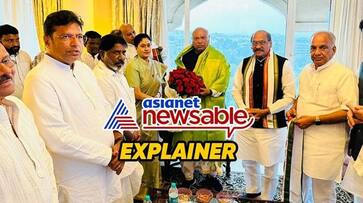 Telugu actor-turned-politician Vijayashanti rejoined the Congress after announcing her departure from the Bharatiya Janata Party (BJP). She said her decision was prompted by the BJP and the Bharat Rashtra Samithi (BRS) had come together, despite Prime Minister Narendra Modi and Union Home Minister Amit Shah visiting Telangana and accusing BRS founder and Chief Minister KCR of being 'the most corrupt' leader.
Addressing the media after leaving the BJP, Vijayashanti highlighted the repeated calls from Modi and Shah for action against KCR, citing him as the most corrupt leader. She said allegations were made against KCR's daughter's involvement in a liquor scam, and the BJP accused BRS of functioning as a family party. Despite years of agitation and expectations that the BJP would take action against KCR, Vijayashanti expressed disappointment in the party's inaction, especially when they had acted against leaders in similar situations.
Having resigned from the BJP, Vijayashanti returned to the Congress, where she was promptly appointed as the Chief Coordinator of the Campaign and Planning Committee for the November 30 Telangana Assembly polls by Congress General Secretary KC Venugopal. 
The formal induction into the Congress took place in the presence of Congress Chief Mallaikarjun Kharge at an event in Hyderabad. This move aligns with the Congress's robust campaign for the upcoming 2023 Telangana elections.
Vijayashanti, a former BJP MP, initiated her political career with the BJP in 1997, later joining the Telangana Rashtra Samithi (TRS) during the movement for a separate Telangana. 
Elected to the Lok Sabha in 2009, she joined the Congress in 2014, just before the bifurcation of Andhra Pradesh and the formation of Telangana. Renowned for her work in South Indian cinema, Vijayashanti received the National Film Award for Best Actress for her portrayal of a female cop in the film 'Kartavyam.'
As Telangana gears up for the Assembly elections on November 30, with vote counting scheduled for December 3, Vijayashanti's return to the Congress adds a strategic dimension to the party's preparations. In the 2018 Assembly elections, the Bharat Rashtra Samithi secured a dominant victory, winning 88 out of 119 seats with a 47.4% vote share, while the Congress trailed with just 19 seats.
Last Updated Nov 18, 2023, 3:42 PM IST