Awaiting Ram Mandir's grand opening: Nripendra Misra reflects on milestones, challenges during construction
In an exclusive interview with Asianet News Network's Rajesh Kalra, Nripendra Misra spoke at length about the various milestones and challenges faced along the way during the construction of the grand Ram Mandir in Ayodhya.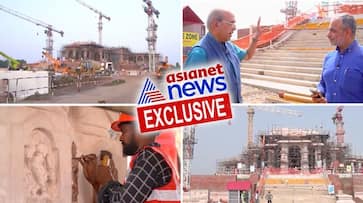 With each passing day, the anticipation mounts for a historic grand opening of the Ram Mandir, scheduled for January 2024, in Ayodhya. Devotees of Lord Ram are eagerly awaiting the chance to offer their prayers at the magnificent new temple, which stands as a testament to unparalleled craftsmanship and engineering.
Guiding this monumental project is the esteemed Nripendra Misra, who serves as the Chairman of the Temple Construction Committee for the Shri Ram Janmabhoomi Teerth Kshetra Trust. Misra, a former Principal Secretary to the Prime Minister of India, has played a pivotal role in the project's leadership and execution.
Also read: Countdown to Ram Mandir's grand opening: Exclusive journey into construction progress, milestones and more
In an exclusive interview with Asianet News Network's Rajesh Kalra, Misra spoke at length about the various milestones and challenges faced along the way. 
Here's a look at some of the key milestones achieved so far and challenges faced in the construction of the grand Ram Mandir in Ayodhya:
Strong Foundation
Nripendra Misra emphasized the significance of laying a strong foundation for the Ram Mandir. He referred to the foundation work as a critical milestone. "The foundation, which is about 12 meters in depth and the raft that is 2 meters in height, and the plinth of granite, which is about 2.5 meters in height, that is the milestone 1 - which basically means the foundation is getting completed." His words underscore the importance of starting any grand endeavour with a solid base.
Making Ram Mandir resilient
Misra recognized the need for a scientific approach to ensure the temple's structural integrity. "Once the foundation is complete then starts the second challenge and that is how you put the stones because the stone is the actual weight on this foundation. That was done after great deal of not just care, but after great deal of scientific examination on what is the load factor, which can come on this. That load factor was all estimated through simulation exercises by IIT-Chennai and also by Central Building Research Institute, Roorkee, and what they did - they worked for a simulation of earthquake also," he said.
Watch the April 2022 interview with Nripendra Misra here
"All kinds of calamities that can challenge the stability of the structure was tested in the lab, and they came to the conclusion that what are the parameters necessary for the stone to be put up. What strength should be provided at the arms of the stone in order to withstand the pressure and also to make it more resilient that there is any kind of tremor, shake then they are able to withstand it," he further stated.
Artistic Precision and Iconography on pillars
The chairman of the Ram Mandir construction committee highlighted the challenges involved in the intricate stone-work of the temple. "While describing it, it seems simple, but putting the stones, making the roof of the stone, that required a lot of skill," he noted.
Nripendra Misra also spoke about the iconography process for the temple's pillars and stated that the team is engaged in it extensively as they prepare for the grand opening. "Here in the scheme of things, for the total temple - roughly 350 pillars are there. Of that 170 pillars are on the ground floor. Each pillar has got 25 to 30 figures and these figures in some manner are predetermined. It is as per the Nagar Shaili temple and Avadh temple. For example, in the pillar, if you show Devangana - what are the different moods of Devangana will have to be shown on the pillar. Iconography of 170 pillars - each pillar with 25 to 30 figures that has to be done," he stated.
Depicting Lord Ram's Life
Nripendra Misra shared his vision for the temple's lower plinth, where the story of Lord Ram will be depicted through murals. "On this 750 running feet, we are going to narrate Ram Katha - the story of Ram. That narration about 100 murals depicting the life of Lord Ram." He explained that this artistic representation, created by noted artist Vasudev Kamat, aimed to educate and inspire future generations about the rich history and culture of India.
Also read: Ayodhya Ram Mandir will be earthquake-proof. Here's how?
"Often a challenge is posed to us, in fact we have this young man - people of his age often ask - who was Lord Ram? How do you say he was born here in this building? What is this Ayodhya? Who was Dasarath? In order to make them believe that we have a genuine civilization, we have a genuine history of 5000 years back when Ram was born. We decided that one way is to show salient features of Ram and that is why this Ram Katha was thought of. We have started working on this milestone. It may not be achieved by December 31, 2023. But it will get completed by June 2024," Misra said.
Resolving Difference of Opinions
One of the most significant challenges in this project was the differences of opinion among experts. Nripendra Misra candidly admitted, "The most challenging part...is on the difference of opinion." 
He narrated how differences were resolved through committees and expert recommendations, highlighting the importance of consensus-building and safety considerations. "We have a very eminent company which is doing the implementation - Larson & Tubro. We also have a very eminent monitoring team, which is headed by Tata Consulting Engineers Limited. Then we have Indian Institute of Technology - 5 IITs with whom I have signed the contract and then we have Central Building Research Institute," he mentioned.
Recounting the first difference of opinion, Misra added, "Starting with the foundation, when the first difference was should it be based on pile foundation or should it be based on excavating the soil, refilling the engineered soil and then that engineered soil becomes like a stone in 28 days. So there were two views - all the high rise constructions world over are being made on pile foundation. So everyone wondered, what's so special? Why can't we make it on pile foundation? But after great deal of debate within the trust and with these experts we opted for the foundation where 12-15 metres was dug out and once it was dug out then it was filled."
Also read: Explained: True story behind the Ayodhya Ram Mandir design
Load of Power
The Ram Mandir construction committee chairman highlighted there was a difference of opinion with regards to what should be the load of power. He added, "They all agreed that we must buy DG sets for 4000 KV. I accommodated, but I know for certain it is not going to be required. I have respected the views because it was unanimous. But I know that it will not be more than on DG set of 750 KV and one of 500KV. It will never be required. But then okay, if you are told suddenly, if there is a power failure in a temple like this you know the consequences. I could not take that burden on my shoulders. Sometimes you are told if you don't do this these are the consequences.
Balancing Tradition and Safety
Misra recounted differences of opinion about construction of certain portions that were recommended in adherence to Vaastu principles, which became a challenge to safety of devotees. "We cannot create here just because vastu wanted those umras all over. We could not create that because it could have led to stampede. If anyone fell on that height, it would have been very serious. The difference of opinion went to the extent where my architect said I will not agree with you unless you give it in writing. So I had to give it in writing that we will not put umra there. Then finally the umra was removed from the design and the construction went on," he added.
Also read: The Ayodhya Story: A grand Ram Mandir takes shape
Last Updated Sep 12, 2023, 9:05 PM IST