Decoding the curious case of missing government files
Missing government files has serious consequences yet is a regular phenomenon in the country.
The Public Records Act criminalises unauthorised destruction of files.
Manuals are also available on various processes regarding management of government files.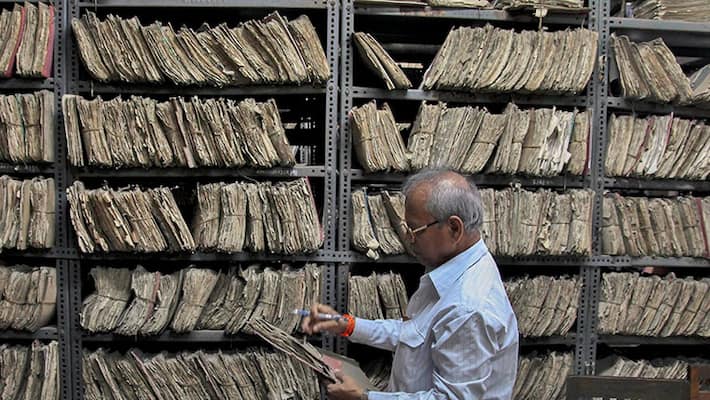 One of the words synonymous with government work is files, and the other words that is officially attached to many high level scam in India is missing files. 
From missing coal files in Coalgate scam, files of 1975 emergency, files of Netaji Subhash Bose, files of Ayodhya land dispute, income tax files to crucial Ishrat Jahan encounter missing files, one of India's big problem is the vanishing government files of crucial importance. Some of the reasons these files go missing are huge number, careless attitude in protecting them, lack of infrastructure to keep them, and yes, rampant corruption in govt offices.
When the progressive Modi government came to power it decided to get rid of as many as 11,000 files of various matters without following the laid down protocol. Later on the government blamed the previous ruling government saying that those files were identified by the previous govt.
The missing files have lot of implications including reducing accountability, disrupt governance, judicial lacuna, and also hampers research and scholarly activities. 
Law to the rescue: 
India has Public Records Act, 1993, act provides processes to maintain records to be followed by the central government and statutory bodies and its accompanying Public Records Rules, 1997, gives detailed procedure to follow by government offices. 
On how to prepare, number, and store files, there is the Manual of Office Procedure prepared by the Central Secretariat and for classifying files as secret there is the Manual of Departmental Security Instructions, 1994. But, non of these manuals are available for public access. 
What law says on missing files: 
Under Public Records Act, 1993, unauthorised destruction of files or movement of public records outside Indian territory is a criminal offence and its violation can led to imprisonment up to 5 years and fine up to ₹10,000. The law is clear but hardly any conviction has done under this enactment. 
Another problem is that the act criminalised the malicious acts but no measures have been taken to deal with negligence and other issues due to which files go missing.
Is digitisation a solution? 
Digitisation is a good solution starting from this moment but what about the files that are already in existence and are crucial in governance? 
First of all, to adopt digital one requires man force capable of handling it and second for the existing files bureaucrats and authorities responsible for storing the files needs to be trained about archiving and storing the files and most of all, to prevent further files from missing there requires proper storage facility. 
Last Updated Mar 31, 2018, 6:48 PM IST