CPI(M)-DYFI workers brutally thrash Congress activists for waving black flag at Nava Kerala Sadas in Kannur
The Congress and Youth Congress workers waved black flags at the Nava Kerala Sadas and the Chief Minister in Kannur on Monday (Nov 20). Enraged at the protest, CPI(M) and DYFI workers unleashed violence near Pazhayangadi police station and injured several Congress workers.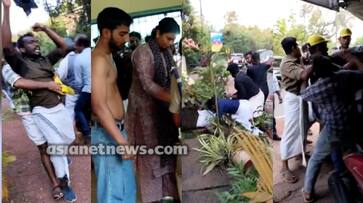 Kannur: In a violent turn of events, Youth Congress activists and reportedly Muslim League activists who waved black flags to Chief Minister Pinarayi Vijayan and his cabinet ministers after returning from public meeting during the Nava Kerala Sadas were brutally beaten up in Kannur. CPI(M)-DYFI workers unleashed violence in Pazhayangadi on Monday. The protestors waved a black flag at Eripuram in Pazhayangadi in the Kallyasseri constituency and this was the first protest against the Nava Kerala Sadas in the state.
CPM workers surrounded and beat up a Congress worker who was protesting by waving a black flag. He was brutally beaten with a helmet and a potted plant and was kicked to the ground.  It is clear in the footage that the policemen are also beating up the black flag protestors. The incident turned violent in front of the Pazhayangadi police station. 
Those who sustained injuries to the head were admitted to a hospital in Taliparamba.
Journalists were also assaulted during the violent clash. The cameraman on Media One, Jaisal Babu was attacked in the clash. Seven Youth Congress workers including Youth Congress District Vice President Mahita Mohan were injured in the beating. 
The Nava Kerala Sadas cannot be denigrated by flying a black flag said Chief Minister Pinarayi Vijayan after the violent clash. The Chief Minister told the CPM members not to lose their temper and that the Youth Congress protest at Pazhayangadi was being carried out for a hidden motive. The Chief Minister also urged everyone in attendance to avoid giving anyone the chance to defame the beloved programme.
The Chief Minister said, "Those who showed the black flag had a different intention. A young man and a woman jumped in front of the bus as we approached Taliparamba. The people standing on the roadside maintained restraint and those who showed black flags were arrested and transferred by the police. The protest is done by those who come with a hidden agenda. Let no one be offended. The goal is to create a provocation."
In his speech, the Chief Minister said that no one should fall into provocation and we are moving forward after experiencing many such things.
Last Updated Nov 20, 2023, 9:34 PM IST