Congress posts posters criticising HD Kumaraswamy amid electricity row, sparks feud with JDS
The political scenario in Karnataka escalates as Congress and JDS engage in a poster war over corruption allegations against HD Kumaraswamy. JDS accuses Congress of misconduct, diverting attention from their own issues. Kumaraswamy faces FIR over electricity theft, defended staunchly by JDS amid investigations. Tensions rise as both parties exchange threats and accusations, shaping a pivotal moment in state politics.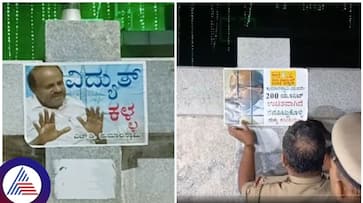 The political arena in Karnataka witnessed a heated exchange as the Congress party stirred controversy by pitching posters criticizing HD Kumaraswamy for the electricity theft allegation, leading to a brewing conflict between the JDS and Congress.
The posters, prominently displayed on walls, shed light on allegations of corruption and misconduct within the Congress party. Referring to Congress as a party engulfed in scandals and misdeeds, the posters accuse them of falling into the clutches of land and stone grabbers, portraying a chaotic and directionless state.

'Just for testing': Karnataka Ex-CM HD Kumaraswamy responds to alleged power theft for Diwali lights
Despite Kumaraswamy's attempts at clarification, the JDS initiated a tweet war, expressing dissatisfaction with the Congress's portrayal. JDS took to their official Twitter handle, NS, stressing the necessity to divert public attention from what they termed as Congress's murky affairs.
The ongoing rift between the parties intensified after Kumaraswamy's recent controversial remarks, leaving the armed forces in disarray. The Congress, according to JDS, is now entangled in a perplexing web with no clear exit strategy.

HD Kumaraswamy takes swipe at DyCM Shivakumar's vision for Greater Bengaluru
The accusations hurled by the JDS against Congress include allegations of misconduct, stating that Congress is involved in unethical practices such as leveraging political positions for financial gains, extorting from the Chief Minister's office, and receiving kickbacks from contractors.
The tensions between the two parties escalated further as Congress threatened to sweep the state, citing various issues like taxation, postings for monetary gains, and alleged corruption within the former CM's administration.

HD Kumaraswamy slams Karnataka CM Siddaramaiah, urges focus on state issues rather than blaming central govt
The contentious issue of electricity theft in Kumaraswamy's residence, quickly leading to an FIR by Bescom, further fueled the ongoing feud. The JDS stood firmly behind Kumaraswamy, asserting his innocence and criticizing the investigations by ED, CBI, and IT, claiming there is no evidence to support their inquiries.
Amidst this political upheaval, the JDS asserted its readiness for a showdown while accusing Congress of resorting to unethical and manipulative politics. The intense back-and-forth between the parties seems to mark a turning point in the political landscape.
Last Updated Nov 15, 2023, 3:33 PM IST