'Just for testing': Karnataka Ex-CM HD Kumaraswamy responds to alleged power theft for Diwali lights
Ex-CM HD Kumaraswamy clarifies an inadvertent Diwali lighting connection, stating it was for testing, and promptly removed. Congress accuses theft, shared video; Kumaraswamy refutes, willing to comply with BESCOM, criticizes Congress for politicizing the issue, asserts no state resource misuse.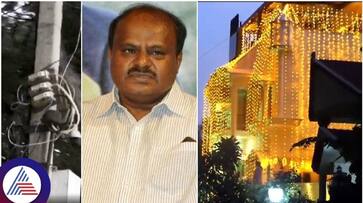 Former Chief Minister HD Kumaraswamy has addressed allegations of an unauthorized electricity connection drawn for Diwali decorations at his residence, clarifying that it was intended for testing purposes only. A private decorator hired for the Diwali lighting inadvertently connected the electricity directly from a nearby pole to the house's lighting setup, which has drawn criticism from the Congress party.
The state Congress seized on this incident, circulating a video on social media, and accusing Kumaraswamy of electricity theft. In response, Kumaraswamy explained that upon his return home, he discovered the temporary connection and promptly removed it, subsequently restoring the electricity from the house's meter board. He emphasized that this was an unintentional mistake and expressed willingness to comply with any fine imposed by BESCOM, the state's electricity regulatory body.

Karnataka: BESCOM hikes electricity bill by 85p per unit starting December
Addressing the Congress's allegations, Kumaraswamy lamented their focus on trivial issues for political mileage, expressing concern over their mindset. He vehemently denied any intention of misappropriating state resources and declared his willingness to cooperate with BESCOM officials for any necessary investigation.
He also criticized the Congress's attempt to amplify a minor incident for publicity, affirming that no state property had been misused.
Last Updated Nov 14, 2023, 2:47 PM IST