HD Kumaraswamy slams Karnataka CM Siddaramaiah, urges focus on state issues rather than blaming central govt
Former CM HD Kumaraswamy advises CM Siddaramaiah to prioritize state matters over political strategies. Kumaraswamy emphasizes collaboration with the central government for financial support during the Raita Santhvan Yatra. He criticizes the government's focus on elections rather than addressing people's concerns, citing the need for solutions to farmers' problems. Kumaraswamy also highlights the lack of protection for officers and citizens.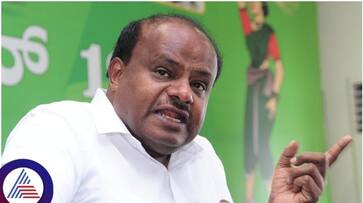 Former Chief Minister HD Kumaraswamy took a swipe at Chief Minister Siddaramaiah, advising him to concentrate on state matters instead of pointing fingers at the central government. Kumaraswamy's remarks came during the Raita Santhvan Yatra, a campaign aimed at advocating for farmers' welfare and voicing concerns on behalf of the state in collaboration with the central government.
Speaking at the inauguration of the e-governance software implementation program at the taluk office, Kumaraswamy responded to Siddaramaiah's recent tweet. He acknowledged the tweet and congratulated the CM before emphasizing the need for collaboration with the central government for financial support.

Bengaluru: HD Kumaraswamy's health shows improvement, Apollo hospital issues statement
Addressing the issue, Kumaraswamy stated, "Getting money from the central government should be done. Siddaramaiah is good with Prime Minister Deve Gowda. He told me to discuss this. He said that we are working with the central government to raise our voice on behalf of the state."
Highlighting a discussion during the Chief Minister's breakfast meeting, Kumaraswamy expressed dissatisfaction with the focus on political strategies rather than addressing the concerns of the people. He remarked, "They do not hold meetings to discuss the people of the country. They are holding meetings only to win the Lok Sabha elections. They do not need to find solutions to farmers' problems."
In response to discussions about political alliances, Kumaraswamy humorously mentioned his support for DK Shivakumar becoming Chief Minister, stating, "Yes, I quipped that if DK Shivakumar becomes Chief Minister, he has our support."

Karnataka's ugly politics: Zameer vs HDK, Siddaramaiah vs CM Ibrahim to BSY vs Yatnal, how friends turned foe
Taking a critical stance on the government's performance, Kumaraswamy highlighted the lack of protection for officers and common citizens. He cited an incident where a senior officer was killed, blaming the government for failing to provide a secure environment for honest officers. Kumaraswamy urged the government to take strict action against the accused and create an atmosphere conducive to officers working independently.
Present at the event were former MLA A. Manjunath, JDS leaders HC Jayamuthu, Govindahalli Nagaraju, and Borwell Ramachandru. 
Last Updated Nov 9, 2023, 2:02 PM IST