CM Siddaramaiah slams HD Kumaraswamy's allegations regarding police list transfer as 'baseless'
A video featuring CM Siddaramaiah's son discussing transfers raised controversy as Kumaraswamy alleged police inspector manipulation. Siddaramaiah clarified that 'Vivekananda' referred to an official, discrediting Kumaraswamy's claims. He criticized Kumaraswamy's mental well-being and urged the rectification of falsehoods, emphasizing Dr. Yathindra's innocence and advocating for honesty.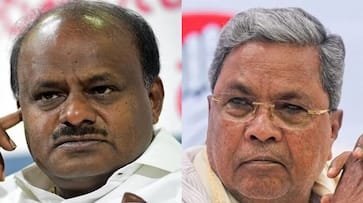 A powerful development unfolded on Saturday as a video featuring CM's son, Yathindra, discussing transfers went viral. The video raised eyebrows as the name mentioned by Yathindra coincided with a transfer list, triggering HD Kumaraswamy's outrage. However, CM Siddaramaiah clarified that the mentioned 'Vivekananda' pertained to Mysore's BEO and CSR fund, refuting Kumaraswamy's claim that it referred to a police inspector named Vivekananda.
The name 'Vivekananda' appeared in a transfer list involving 71 police inspectors on Friday, leading to his transfer to Mysore's VV Puram Police Station from State's Secret news affairs. Kumaraswamy, implicated in Yathindra's video, stated his intention to produce a film titled 'Position for Money & Congress Hundi.'

Karnataka: Former CM HD Kumaraswamy challenges CM Siddaramaiah over police category listing controversy
In response, Siddaramaiah took to Twitter, attributing Kumaraswamy's remarks to disturbed mental well-being. He emphasized the conversation in Yatindra's video as related to the Varuna constituency's government school development, denouncing Kumaraswamy's claims as baseless. Siddaramaiah highlighted 'Vivekananda' as the BEO of Mysore Taluk, dismissing Kumaraswamy's assertions as falsehoods driven by mental instability.

CM Siddaramaiah firmly denies transfer scam allegations, promises political retirement if proven
Siddaramaiah further questioned Kumaraswamy's use of loose words, urging him to maintain political decorum akin to his elder brother, HD Revanna, and emulate the restraint shown by HD Deve Gowda. He asserted that Kumaraswamy should rectify his mistakes rather than fabricating multiple falsehoods to cover a single untruth.
Expressing confidence in Dr. Yathindra's innocence, Siddaramaiah advocated for admitting errors and extending public apologies rather than perpetuating a chain of lies. He concluded with the hashtag 'false news heroes,' expressing hope for Kumaraswamy's enlightenment.
Last Updated Nov 18, 2023, 1:09 PM IST