Karnataka: Former CM HD Kumaraswamy challenges CM Siddaramaiah over police category listing controversy
Former CM HD Kumaraswamy questioned Karnataka's government for swiftly placing Vivekananda from a viral video into a police category list. He criticized CM Siddaramaiah's administration, highlighting moral discrepancies and alleged nepotism. Kumaraswamy demanded answers, citing 108 instances and suggesting a hidden agenda behind rapid placements. He hinted at governance issues and accused Siddaramaiah's son of involvement, emphasizing the truth's inevitability.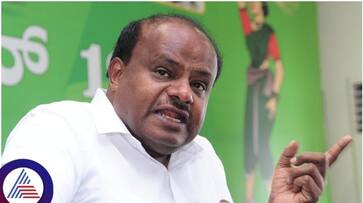 Former Chief Minister HD Kumaraswamy has raised questions regarding the swift inclusion of Vivekananda in Karnataka's Collection Prince video into the police category list within a mere 48 hours. Kumaraswamy expressed his concerns through a post on X, criticizing the functioning of the government under CM Siddaramaiah.
In his social media post, Kumaraswamy remarked on the workings of the government, referring to it as a "wonderland." He emphasized the disparity between the moral values spoken and the actual practices, implying inconsistencies within the administration. He ended the post with a scathing comment on the current internal integrity of CM Siddaramaiah, expressing disgust and calling for introspection.

Controversial video of K'taka CM Siddaramaiah's son Yathindra emerges; BJP calls it 'cash for transfer' proof
The post essentially highlighted the hypocrisy of the chief minister, citing 108 instances and questioning the credibility of the government's actions. Kumaraswamy specifically addressed the issue of Vivekananda's swift transition from the Collection Prince video to a posting in Mysore VV Puram within the police category list, labelling it a mysterious shift comparable to the secrets of the Bermuda Triangle.

Yathindra's phone conversation should be investigated: Karnataka Former Minister Araga Jnanendra
He reiterated his duty to pose questions and demanded answers from Siddaramaiah. He also brought up allegations regarding the involvement of the CM's son in the list of 71 police inspectors, indicating hidden favouritism and nepotism within the system.
The former CM's criticism extended to Siddaramaiah's governance, citing discrepancies in budget allocations and hinting at a potential movie titled 'Kasigagi Pasha and Congress Hundi.' Kumaraswamy used strong language to emphasize his stance, stating that truth will prevail despite attempts to suppress it.
Last Updated Nov 18, 2023, 10:37 AM IST