Modi-Xi meet at BRICS Summit; both agree to tell officials to expedite disengagement and de-escalation at LAC
Prime Minister Narendra Modi met Chinese President Xi Jinping on the sidelines of the BRICS summit on Thursday, during which he spoke about India's concerns on the unresolved issues along the Line of Actual Control in the western sector of the India-China border areas.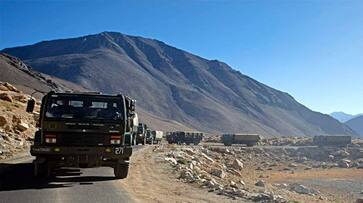 Prime Minister Narendra Modi and Chinese President Xi Jinping held a meeting during the BRICS Summit, where they discussed India's concerns regarding unresolved issues along the Line of Actual Control (LAC) in the western sector of the India-China border areas. Foreign Secretary Vinay Kwatra, briefing the media on their interaction, mentioned that Prime Minister Modi emphasized these concerns during his discussions with President Xi Jinping. Both leaders agreed to instruct their respective officials to step up efforts for a speedy disengagement and de-escalation.
Prime Minister Modi underscored the significance of maintaining peace and tranquillity in the border regions and adhering to the LAC as crucial for normalizing India-China relations. In this context, they jointly committed to directing their officials to intensify efforts at expeditious disengagement and de-escalation.
India and China recently concluded their 19th round of talks aimed at resolving remaining issues along the Line of Actual Control. These talks, which spanned two days, were notable for their extended duration compared to previous one-day rounds. 
Following the discussions, both sides issued a joint statement affirming their commitment to expeditiously address lingering LAC issues. The statement emphasized open and forward-looking dialogue guided by leadership directives, aiming to sustain the momentum of discussions through military and diplomatic channels. 
In the interim, both nations agreed to maintain peace and tranquillity in border areas. Disengagement efforts have been ongoing since Corps Commander-level talks in 2020, with progress made at several friction points but challenges remaining at others, notably Depsang Plains and Demchok, due to disputes over their timeline of origin.
Even after four disengagement rounds in the Galwan Valley, Pangong Tso, Gogra (PP-17A), and Hot Springs (PP-15), both the Indian and Chinese military maintain substantial troop and advanced weaponry deployments in the Ladakh region. Challenges persist in the Depsang area of the Daulet Beg Oldi sector and the Charding Nullah Junction (CNJ) in the Demchok sector, as discussions continue to address these issues.
Last Updated Aug 24, 2023, 9:49 PM IST