Astrologer who predicted Congress' win in Karnataka now forecasts poll-bound Telangana's fate
Earlier this month, Telangana Chief Minister K Chandrasekhar Rao on Wednesday expressed confidence that the BRS would return to power in the state Assembly elections.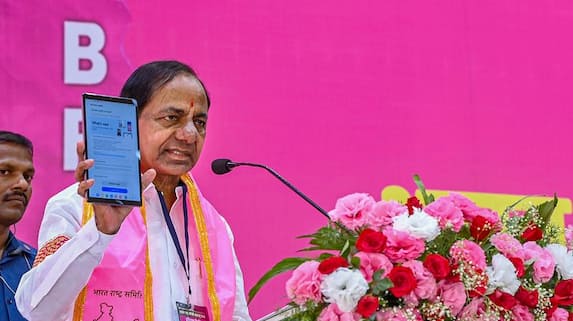 Telangana is gearing up for the state assembly elections, scheduled to be held later this year. Ahead of the polls, dates of which are yet to be announced, the astrologer who predicted Congress' comprehensive victory in Karnataka has now forecasted the fate of the state.
Astrologer Rudra Karan Partaap on Saturday tweeted his prediction stating, "In the upcoming Telangana elections, The reigning government of Shri. K. Chandrashekhar Rao will be re-elected & continue its tenure in Telangana."
In March 2023, the same astrologer had predicted that May is 'not favourable for the BJP' and that the Congress will emerge as the single largest party in Karnataka. Rudra Karan Partaap added in his 31st March tweet, "The probability of (Congress) forming the government is much higher than BJP. DK Shivakumar is going through great Yogini Dasha compared to Basavaraj Bommai."
"123 to 133 seats" to Congress was astrologer Rudra Karan Partaap's prediction on April 4. The Congress, which bagged 135 seats in the 224-member Assembly, ousted from power the BJP, which won in 66 constituencies, while the Janata Dal (Secular) managed to win only 19 seats.
Also read: Karnataka Election 2023 Results: Astrologer predicted Congress' victory over BJP two months ago; details here
"Predicted in March 2023 & The Stars have their say. Congress, as predicted, emerges as the single largest party showing doors to the BJP government. But that said, don't think that the stage for 2024 is now witnessing a battle. Karnataka's defeat will only lead to the BJP turning it around for themselves through revolutionary decisions in the coming months," noted astrologer Rudra Karan Partaap in his tweet after BJP conceded defeat in the May 10 Karnataka assembly elections.
Earlier this month, Telangana CM K Chandrasekhar Rao expressed confidence that the BRS would return to power in the state Assembly elections by winning between 95 to 105 seats out of the total 119.
The country wants the 'Telangana model' of development as the state has achieved tremendous progress since 2014 (when BRS came to power after formation of Telangana), the BRS supremo had said while addressing party leaders on May 17 in Hyderabad.
Observing that no party can win elections on the basis of caste or religion, he also stated that the BRS is treating all sections of society equally. This is the secret of BRS' success, Rao said. Politics should be based on people's issues and not on petty matters, he contended.
Telangana came into existence on June 2, 2014. The previous Assembly polls in December 2018 saw the BRS (then TRS) emerging on top with an absolute majority and the tenure of the House is due to end by December 2023.
Also read: Make in India push: iPhone maker Foxconn to invest $500 million in Telangana; will create 25,000 jobs
(With inputs from PTI)
Last Updated May 27, 2023, 8:42 PM IST