'If BJP comes to power again...' Kerala CM Pinarayi Vijayan warns Left cadre
The Chief Minister also stated that the BJP will not secure any seats in Kerala.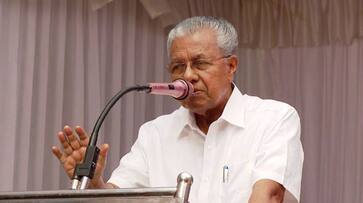 Thiruvananthapuram: Kerala Chief Minister Pinarayi Vijayan, during a meeting of the LDF, expressed concerns about the potential return of the Bharatiya Janata Party (BJP) to power in India. He stated that this could pose irreparable danger. The Chief Minister also stated that the BJP will not secure any seats in Kerala.
The Chief Minister also remarked on the Rashtriya Swayamsevak Sangh's (RSS) objective to establish a religious state, emphasizing that citizenship should not be based on religion. He accused the Sangh Parivar of celebrating the decline of secularism and wanting it to continue, potentially leading to dire consequences, including genocide. He mentioned that the minority community in India is anxious about the possibility of the BJP's return to power, which further heightens their concerns.
The Chief Minister criticised the Enforcement Directorate's (ED) raids in opposition-ruled states, stating that this would not diminish public sentiment. He urged for the strengthening of coalitions against the BJP. CM Vijayan emphasised that despite significant financial efforts, the BJP would not gain a foothold in Kerala and would not win any seats in the state.
 
Earlier on Saturday (Oct 7),  the Chief Minister broke the silence on allegations of bribery in an appointment linked to the Health Minister's office. He said that those who conspired against the health department and Minister Veena George were caught by the state police. CM Vijayan continued by saying that a number of people and media organisations are responsible for the conspiracy against the Health Department in connection with the current case of employment fraud. The Chief Minister was speaking at an LDF event in Kannur. 
The Chief Minister also slammed the Congress in Kerala for supporting the Bharatiya Janata Party (BJP). He said that Congress does not have a firm stand against communalism and BJP has a grudge against Kerala. He criticized that a section of the Congress is always with the Sangh Parivar. He alleged that the Sangh Parivar ideology should not be impacted in any way, according to Congress policy.
Last Updated Oct 8, 2023, 11:17 AM IST