Vaibhavi Merchant compares Deepika Padukone, Katrina Kaif; says "Katrina is a teacher's pet and Deepika..."
Choreographer Vaibhavi Merchant has shed light on the distinctions between Katrina Kaif's song "Leke Prabhu Ka Naam" and Deepika Padukone's "Besharam Rang" from the film Pathan. Additionally, she has highlighted the differences in the work ethic and dance styles of the two actresses.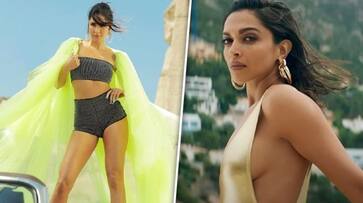 The actors Salman Khan and Katrina Kaif have been making a lot of people excited about their new movie, Tiger 3. They recently released a song called "Leke Prabhu Ka Naam," which is special because it's the first time Salman Khan and Arjit Singh are working together after not getting along for nine years. Most people liked the song, but some internet users thought it was similar to a song called "Besharam Rang" from Shah Rukh Khan and Deepika Padukone's movie, Pathaan. What's interesting is that both songs were choreographed by Vaibhavi Merchant.
In an interview with Hindustan Times, Vaibhavi shared her thoughts on these opinions. She explained, "See, when I was introduced to Rubai, Deepika's character in Pathaan, my brief was just that she's supposed to entice the Pathaan character. There was no info about her backstory. It was her intro song. So I just approached her as a femme fatale. She's Bo Derek from James Bond." 
She further added, "Deepika had also done a bunch of traditional roles, like Padmaavat. So when she came into Besharam Rang, she wanted to go all guns blazing. So I didn't want to shoot it like a typical Hindi dance song. I wanted it to be languid like a chic fashion video. Something I did with Katrina in the Dhoom 3 title track. But Zoya is very different from Rubai. She's the wife of Tiger and the mother of a 10-year-old. So it's all character-driven. Rubai is meant to entice Pathaan, and Zoya is dancing with her husband. She's just celebrating."
When discussing the distinctions between Katrina and Deepika, Vaibhavi pointed out, "Katrina comes from a place of anxiety. She wants to make sure she doesn't disappoint anybody. Deepika came in as the completely opposite. She's a quiet worker. She did her rehearsals silently. She does her homework. Katrina also does her homework, but she's like, 'Dekho, dekho, main apna homework karke aayi hu.' She needs a sign-off from me on everything, including her costumes. Deepika worked on her costume herself. Katrina is that frontbencher who's a teacher's pet. She's very hands-on. Deepika is that mid-bencher who comes with a certain ease."
Tiger 3, a Maneesh Sharma directorial and a YRF production is slated for a theatre release on November 12.
ALSO READ: '12th Fail': Kamal Haasan goes gaga over Vikrant Massey, Vidhu Vinod Chopra's film
Last Updated Oct 26, 2023, 10:59 AM IST