Tejas Trailer Out: Kangana Ranaut is on a mission, a mission to attack (WATCH)
The much-awaited trailer of 'Tejas,' featuring Kangana Ranaut, is OUT NOW, promising exhilarating action and adventure.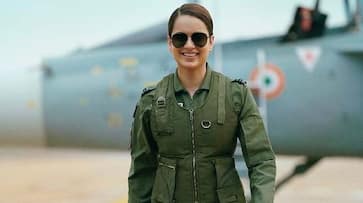 The Tejas trailer, which starred Kangana Ranaut, provided a quick preview of the exciting action and adventure that awaits on the big screen. This has piqued the nation's interest. To capitalise on the audience's enthusiasm, the makers revealed that the trailer will be published on October 8, 2023, also Air Force Day. And now the day has arrived, as has the much-anticipated trailer! 
Kangana Ranaut stars as the aggressive, tough and powerful Air Force Pilot Tejas Gill in the teaser, released today on Air Force Day. The trailer immediately attracts attention with high-level aerial shots and the intriguing sentence #BharatKoChhedogeTohChhodengeNahi. 
The trailer is a visual extravaganza, with a well-executed background music soundtrack and outstanding visual effects, generating a sense of patriotism with its poignant lines. Kangana's portrayal of a brave Air Force mission controls the screen, presenting a genuinely powerful and fearless character and effectively generating enthusiasm for the film, which is planned to debut on October 27, 2023.



Tejas, produced by RSVP, stars Kangana Ranaut in the title role. The film, written and directed by Sarvesh Mewara and produced by Ronnie Screwvala, is set to be released in theatres on October 27, 2023.
 
Last Updated Oct 8, 2023, 9:18 AM IST