Sam Bahadur FIRST Review Out: Is Vicky Kaushal's film on Marshal Sam Manekshaw worth watching? Read this
Sam Bahadur Review: The highly anticipated biopic, Sam Bahadur, directed by Meghna Gulzar, is set to hit theaters on December 1. The film stars Vicky Kaushal as Field Marshal Sam Manekshaw.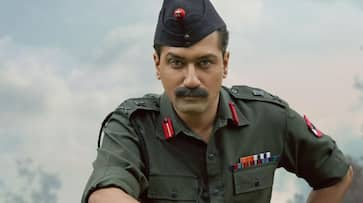 Sam Bahadur, directed by Meghna Gulzar, will be released in theatres on December 1. Vicky Kaushal plays Field Marshal Sam Manekshaw in the film. The movie is based on the life of the first Indian Army commander to achieve the coveted rank of Field Marshal and played a critical part in India's triumph over Pakistan in the 1971 war that resulted in the formation of Bangladesh.
The film's trailer, which was released recently, has only added to the excitement, and Vicky Kaushal's performance has received considerable praise. As the release date of the film approaches, the first review has emerged, offering insights into the cinematic experience. The First Sam Bahadur Review, by Vicky Kaushal The first review of Sam Bahadur was released in a recent post by a news portal's X account, which hailed it as dramatic and elegant. The review also states that the film has a lower mainstream appeal owing to its concentration on the Indian Army.
Also Read: Rajneeti to Sarkar: 7 political dramas to watch before election season
Vicky Kaushal reveals a behind-the-scenes journey video. 
Among the excitement surrounding the film, Vicky Kaushal turned to social media to post an appealing video showing behind-the-scenes training for his part as Sam Manekshaw. In the video, he thanks director Meghna Gulzar for the painstaking preparation and considers 'Sam Bahadur' as the most difficult and gratifying role of his career.
#SamBahadurReview : ⭐⭐⭐.#Sambahadur is more dramatic, more stylish but less massy being a movie on Indian army.... #VickyKaushal does well in this congested plot...
.. Overall one time decent watch...

Run time: 150 Mins. pic.twitter.com/Zd27ShW0Yj

— Always Bollywood (@AlwaysBollywood) November 17, 2023
"The toughest role I've played... The most enriching and fulfilling journey I've been on as an Actor!" he captioned the video. I'll provide a taste of what went on behind the scenes to make it happen. A squad made up entirely of BAHADURs!!!"
Also Read: Watch: Sunny Leone takes part in Ganga Aarti in Varanasi along with co-actor Abhishek Singh
About Sam Bahadur
The film also stars Fatima Sana Shaikh as Siloo, Sanya Malhotra as Sam's wife, and memorable performances by Neeraj Kabi as Jawaharlal Nehru and Mohammed Zeeshan Ayyub as Yahya Khan. Sam Bahadur, which is set to hit theatres on December 1, will compete with Ranbir Kapoor's Animal.
Last Updated Nov 18, 2023, 11:27 AM IST