Salaar: Is Prabhas starrer confirmed to clash with Shah Rukh Khan's Dunki? Know details
Prabhas' highly anticipated film "Salaar" faces release date uncertainty amid reports of a clash with Shah Rukh Khan's "Dunki." The latest news suggests "Salaar" trailer expected soon.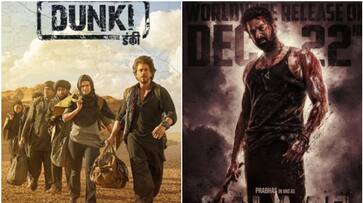 The highly anticipated Prabhas starrer "Salaar" has garnered significant attention ever since its announcement. Recent reports suggested that the film's release might have been rescheduled due to a potential clash with Shah Rukh Khan's "Dunki." However, neither side has officially confirmed this information. Now, there's another report asserting that "Salaar" remains on track for its initial release date, which is December 22. It is expected to enjoy an extended Christmas weekend at the box office. The same report also hints at the release of the film's first trailer by the end of November or early December. 
It's important to note that last month, film trade analyst Manobala Vijayabalan had hinted at a possible postponement when he mentioned, "Buzz: #SalaarVsDunki X #ShahRukhKhan's #Dunki likely to get POSTPONED. #Prabhas' #Salaar to get a SOLO record release."
Turning our attention to "Salaar," this movie is poised to mark a significant comeback for Prabhas, especially in light of the performance of his recent film, "Adipurush," which did not meet expectations. "Salaar" is planned to be released in two parts, with the first part titled "Salaar: Ceasefire." 
Apart from Prabhas, the film boasts an impressive ensemble cast, including actress Shruti Haasan, actor Prithviraj Sukumaran, and Jagapathi Babu in prominent roles. "Salaar" will be a multilingual release, hitting screens in Hindi, Tamil, Telugu, Malayalam, and Kannada. The film is expected to transport viewers back to the 1980s and immerse them in a gripping narrative set against the backdrop of the limestone mafia.
The film's teaser, which was released earlier, created a sensation on social media, going viral and increasing the anticipation for this action-packed thriller. As fans eagerly await the new release date, the promise of an unforgettable cinematic experience continues to generate excitement surrounding "Salaar" at an all-time high.
On the other hand, Shah Rukh Khan's "Dunki" is directed by Rajkumar Hirani and also stars Taapsee Pannu, marking their first on-screen pairing, further adding to the intrigue surrounding this project.
ALSO READ: LEO on OTT: Thalapathy Vijay, Trisha starrer expected to release on THIS date; read details
Last Updated Nov 6, 2023, 11:48 AM IST